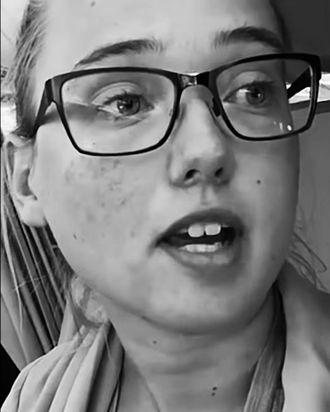 Elin Ersson livestreaming her protest.
Photo: Elin Ersson/Facebook
On Tuesday, a young activist blocked the deportation of an asylum seeker by refusing to be seated on a crowded Turkey-bound flight. Elin Ersson, a 21-year-old Swedish student, livestreamed her solitary, dramatic protest, the footage of which has since gone viral.
According to The Guardian, Ersson bought a ticket for the flight, with the intent of preventing it from taking off, after learning an asylum seeker from Afghanistan was due to be deported on it. Upon boarding, she refused to sit down until he was taken off the flight.
In the 14-minute-long video Ersson took of the tense standoff that ensued, a flight attendant can be heard telling her to stop recording. Another passenger, an English man, instructs Ersson to sit down because she's "upsetting the children" on the flight. Throughout, she refuses, and receives support from other passengers on the flight, including a soccer team that stands in solidarity with her.
"I don't want a man's life to be taken away just because you don't want to miss your flight," Ersson can be heard saying in the video, which has now garnered over 2 million views. "I am doing what I can to save a person's life. As long as a person is standing up the pilot cannot take off. All I want to do is stop the deportation and then I will comply with the rules here. This is all perfectly legal, and I have not committed a crime."
Ultimately, both she and the asylum seeker were removed from the plane. Ersson's protest comes as Sweden imposes tightening policies on immigration and increased numbers of deportations.
"This is how deportations in Sweden work. The people involved know nothing and they are not allowed to reach out to their lawyers or family," she told The Guardian. "My ultimate goal is to end deportations to Afghanistan."
It is currently not known what will happen to the Afghan man seeking asylum.