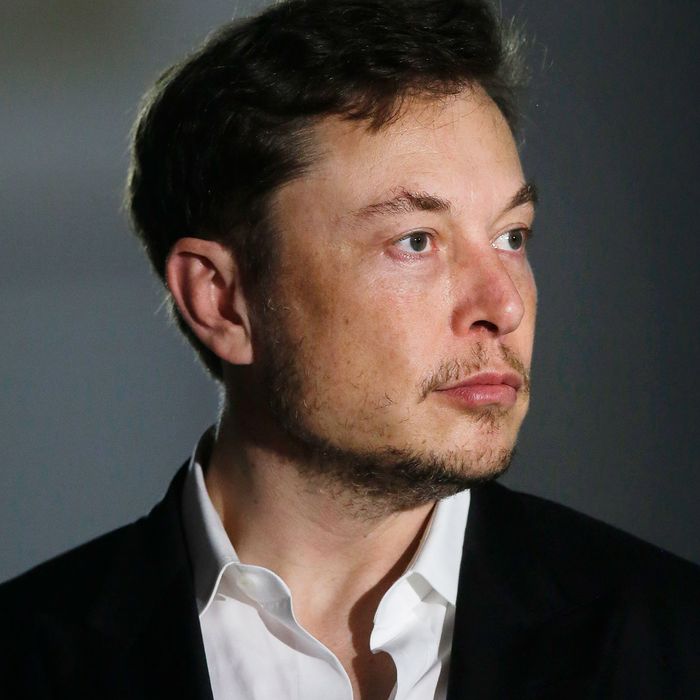 When you're a mad little boy on Twitter dot com.
Photo: Joshua Lott/Getty Images
What would you do if you were a billionaire? I, for one, wouldn't spend any time on the internet, much less Twitter. But Elon Musk — worth $20 billion — clearly has a different idea of how to enjoy his life, seeing as how he spent this weekend fighting on the social-media platform and [squints] calling one of the Thai cave rescuers a pedophile.
It all started when Musk — Tesla CEO, union buster, and one-half of Grusk — built a mini-submarine to rescue the 12 young boys stuck in a cave in Thailand. (Well, technically it all started when a Thai soccer team got stuck in a cave for weeks and then were subsequently miraculously rescued.) The submarine didn't help, and Vern Unsworth — a British diver who actually aided in the rescue — publicly said that it had "absolutely no chance of working."
Musk then sent a series of now-deleted tweets in which he doesn't name Unsworth, calling him only "British expat guy who lives in Thailand."
"I challenge this dude to show final rescue video," he wrote in one. "You know what, don't bother showing the video," Musk replied to himself. "Sorry pedo guy, you really did ask for it."
Unsworth says he is now considering legal action against Musk.
Musk also faced heavy criticism this weekend after news emerged that he had donated nearly $40,000 to a Republican political action committee.
This all comes mere weeks after Musk's other recent brush with drama, which involved him refusing to pay an artist after using his image of a farting unicorn.