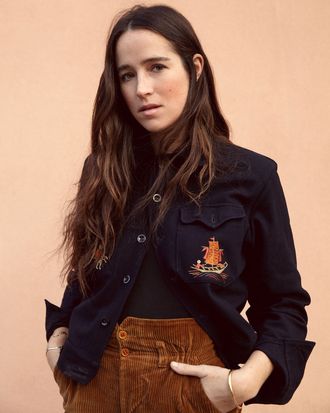 Emily Adams Bode.
Photo: Courtesy of Bode
New York Fashion Week: Men's came and went without much fanfare earlier this month. But a handful of emerging labels stood out, including Bode — a name we've been following since its launch in 2016.
Many designers look to the past for inspiration, but designer Emily Adams Bode, 29, sets herself apart by quite literally weaving history into her collections. She'll fashion a shirt, for example, out of 100-year-old linens, a jacket from 1960s towels, or shorts from vintage tablecloths. Everything she does is one-of-a-kind and sourced from around the world, patchworking together different times, places, and cultures with the lightest of touches.
Bode worked with hand-spun Indian fabric for her spring 2019 presentation, which took place on July 11. She was inspired by the roots of her longtime collaborator, artist Aaron Aujla, who recently upholstered one-of-a-kind wooden stools with vintage textiles of her choosing.
Her commitment to vintage fabrics is so strong that she even sleeps on vintage pillow cases and in vintage pajamas. Below, she shares her most treasured possessions, new and old.
What shoes do you wear most often?
Martiniano Glove Flats. I have ten colors!
What would you never wear?
I can't remember the last time I wore a skirt.
How do you thank people for a gift?
A bottle of the natural wine, usually Denavolo Dinavolino.
What's your dream vacation?
Always a trip back to my second home in Truro, Massachusetts.
What's a good book on your coffee table right now?
The photography book Ceylon by Lionel Wendt.
Favorite piece of furniture in your apartment/studio? My Bode collaboration stool with Green River Project LLC.
What's the last show you binge-watched?
Wild Wild Country.
What's the museum/gallery you frequent the most in New York?
The Folk Art Museum.
What is a trend that you like right now?
Skin care over make-up — love anything Tata Harper.
A trend you don't like/understand?
Logo fashion.
Item you've had in your possession for the longest, and why?
A fabric frame my aunt made in the '70s, with a photo of my parents in their 20s. It's been in my bedroom since I was two.
What's your favorite …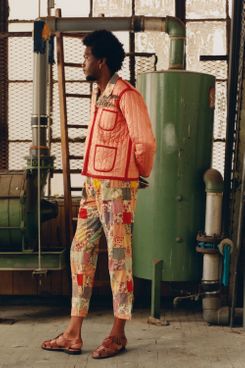 Flower?
Lily.
Pajamas?
I bought the best silk pajama set from my dear friends at Desert Vintage.
Candle?
Maison Louis Marie, No. 4.
Scent?
Bois d' Argent by Dior.
Sheets/bedding?
Vintage Ralph Lauren floral-and-stripe pillow cases and crisp white sheets.
Vintage shop in New York?
Ellen and Edith Machinist.
Restaurant?
Supper on E 2nd Street.
Suitcase?
An L.L. Bean waxed cotton and leather handle duffel I've had since childhood.
T-shirt?
My high-school boyfriend's dad's Olympics shirt from 1976.
Socks?
Never in the summer … but Brooks Brothers men's gray merino wool in the winter.
If you buy something through our links, New York may earn an affiliate commission.