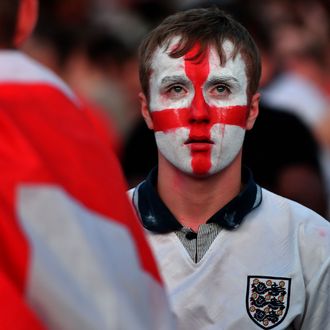 Crying lad.
Photo: Anthony Devlin/Getty Images
In a heartbreaking World Cup semifinal match, Croatia defeated England with a 2-1 extra-time victory, breaking British lads' hearts and footballer Kyle Walker's balls. When it became clear that "it" was not "coming home" this year, our boys across the pond revved up their tear ducts and openly sobbed, their tears smearing the English flags painted on their cheeks.
While Croatia will go on to play France in the World Cup final, Harry Kane, Dele Alli, and the rest of England's team will simply return home, where their weeping fans will — I'd like to hope — embrace their defeated team, who really did try very hard.
To all the sad lads out there: I see you, I feel you, it will be okay.