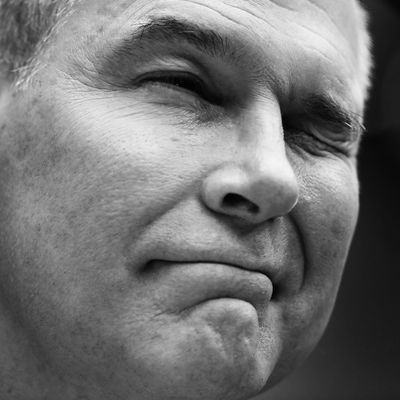 Scott Pruitt.
Photo: Chip Somodevilla/Getty Images
On Thursday, President Donald Trump tweeted that he accepted the resignation of Scott Pruitt. The (now-former) administrator of the Environmental Protection Agency will forever be remembered for his prolific scams.
Pruitt's grifts made headlines during a historic Summer of Scam (that also included the tale of fake German heiress Anna Delvey and crimes of the so-called "Portofino pirate"). The politico's impressive scams led to Congressional probes and near-daily revelations about his exorbitant spending of taxpayer funds. We learned of hotel moisturizer that the five-eight politico forced aides to fetch and all about his fancy snack habits, and details about inane things he had his staff do.
But now, Pruitt is leaving his post. Here, join us as we look back on some of his biggest scams, which we will forever carry in our hearts.
When he tried to get his wife a high-paying job.
Not only did Pruitt reportedly use his aides to try to hook his wife, Marlyn, up with a Chick-fil-A franchise, but he also apparently asked them to help her find a job that paid at least $200,000 annually, according to the Washington Post.
Pruitt had aides use their own credit cards when booking hotels … for him.
Instead of, oh you know, using his own credit card to book hotels (or even using a government-issued card, if he had one), Pruitt reportedly had aides use their own credit cards to book accommodations for him. According to the Washington Post, his former executive scheduler Sydney Hupp was even once stuck with a bill of roughly $600 for a booking she made for Pruitt's family.
All the times he used his connections for sports.
Pruitt, it seems, either likes sports and/or attending sporting events. And, according to the Times, he has a habit of using his connections and aides to get access to sporting events. One aide helped get him into batting practice before a Washington Nationals game. Another time, Pruitt bought tickets to a sold-out Rose Bowl football game … from an energy company PR executive.
He had a pricey phone booth built for himself.
When Pruitt isn't busy denying climate change or evolution, he is apparently using the $43,000 soundproof phone booth that he had built for himself to use in his EPA office. Pruitt told lawmakers that the phone booth was required so that he could do his job … even though no other previous EPA administrator needed one of these booths to do theirs.
That time he spent over $1,500 of taxpayer dollars … on 12 fountain pens.
If there's one thing to know about Pruitt (other than his love of global warming), it's that he simply adores fancy pens, as is evident by his use of $1,560 of taxpayer money to buy 12 fountain pens from a place called the Tiny Jewel Box. But don't worry, his pen-spending habits may soon be limited under U.S. federal law.
When he asked an aide to get him a used Trump Hotel mattress.
In a shocking turn of events, it was revealed that Scott Pruitt had asked his top aide to help him acquire a mattress from the Trump International Hotel in Washington, D.C. … for no governmental-related reason whatsoever. Instead, it sounds like maybe he just liked the mattresses and wanted to save money by buying a used one.
Pruitt rented a room from a D.C. lobbyist with a dubious discount.
During the first few months of his EPA tenure, Pruitt reportedly rented a below-market room from a member of the lobbying firm Williams & Jensen — who lobbied the agency on environmental issues. He apparently only payed $50 a night for the room in the D.C. condo, and only on nights that he actually slept there.
His fancy car upgrade.
Although previous EPA administrators used Chevrolet Tahoes to get around, Pruitt decided to get a Suburban instead, with upgrades like a leather interior, Wi-Fi, and bullet-resistant seat covers. The reasoning behind his upgrade? Apparently, Pruitt wanted a bigger car like some other Trump Cabinet members drove.
Pruitt tried to hook his wife up with a Chick-fil-A franchise.
Pruitt apparently had his aides set up a meeting with Dan Cathy, the chairman and president of fast-food company Chick-fil-A, so that his wife, Marlyn, could set up a franchise … even though federal ethics laws bar public officials from using their position or staff for private gain. Whoops!
When he spent $105,000 on first-class flights in one year.
During his first year at the EPA, Pruitt spent more than $105,000 on first-class travel, arguing that the fancy seats made it easier for his security detail to protect him. Sure.
So then he reportedly tried to lease a private jet to cut down on first-class travel.
Pruitt's dreams of a private jet were apparently scuttled after top advisers objected to the jet's $100,000 per month rental costs.
He enlisted members of his security team to find him moisturizer from the Ritz Hotel.
According to the Washington Post, Pruitt required members of his 24/7 security team to drive him around to find his preferred moisturizer — which just so happens to come exclusively from the Ritz-Carlton hotels. The report didn't specify what type of lotion Pruitt exclusively uses, but we can only assume it's either the signature Ritz-Carlton Moisturizer, which features "sweet notes of ylang ylang, jasmine, and uplifting bergamot," or the Asprey Purple Water Hand & Body Lotion, a spicy, citrus variety sold on the hotel's website.
Pruitt made it a point to eat at the discounted White House mess hall so often that he was asked to stop.
Pruitt apparently couldn't stay away from the bargain-priced meals offered at the White House cafeteria, so he ate there often last year — apparently, too often. As a result, according to Politico, "a member of the White House's Cabinet affairs team told agency chiefs of staff in a meeting last year that Cabinet members shouldn't treat the mess as their personal dining hall."
He required some highbrow snacks.
Pruitt reportedly made his EPA aides fetch him treats several times a week. The Daily Beast reports that those snacks included protein bars, Greek yogurt, cookies, and even "finger food from the upscale eatery Dean & Deluca." He also reportedly asked aides to brew him pour-over coffee. How fancy.
We guess the only way to sum this all up is …
This post has been updated to reflect a correction in the New York Times' reporting that Pruitt requested a letter of recommendation for his daughter from Virginia lawmaker William Howell while he was EPA chief. He was the attorney general of Oklahoma at the time.