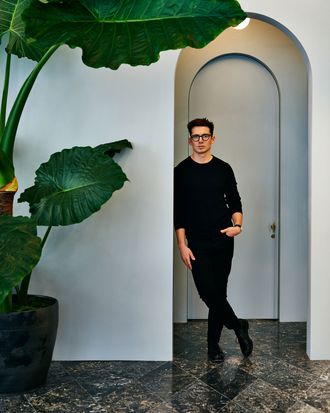 Erdem Moralioglu.
Photo: Courtesy of Erdem
London-based, Canada-bred designer Erdem Moralioglu has always found himself drawn to fashion. Maybe it was the influence of his well-appointed British mother, or maybe it was a side effect of growing up with a twin sister. "I had very easy access to her Barbies, which I enjoyed very much," Moralioglu says of his upbringing. At any rate, by age 5 he was already fashioning rudimentary garments — specifically, a strapless powder blue dress for his sister's doll — and by age 6 he was drawing the costumes that so enchanted him after a trip to see The Nutcracker.
Though there were "high hopes that I would play hockey," Moralioglu remembers, he instead dedicated his life to the art of fashion, going on to study at the Royal College of Art in London and launching his namesake line in 2005. Barneys was his first client and remains a loyal customer to this day. His wares have appeared on countless magazine covers, though he remembers seeing Alexa Chung in one of his concoctions on the front of British Vogue 13 years ago as a particularly proud moment. This past spring, his early love of ballet came full circle when he was commissioned to design the costumes for London's Royal Ballet, and was welcomed to the stage for their debut in March.
Below, Moralioglu spoke to the Cut about his favorite party trick, his aversion to jeans, and his penchant for all things pickled. Read on for the full Q&A.
How do you thank people for a gift?
I write a letter on my Smythson stationary.
Mood lighting or natural light?
I like it when it's dark.
What are five coffee-table books that you'd be proud to display?
I hate the idea of a coffee-table book in general because it becomes more of a decorative thing. I love the idea of books living next to your bed. At the moment, they're visual books so Goodbye Picasso by David Douglas Duncan. It's my favorite book, I love that book. I love Truman Capote's Other Voices, Other Rooms. And I'm also reading The Inheritance, which is a wonderful play by Matthew Lopez. It's an eight-hour play which I saw and now I'm reading the script. Last summer I was reading Night of the Iguana, which was great. It's nice instead of reading novels to read plays. I also love Tennessee Williams.
What would you never wear?
Anything transparent.
What's your favorite song on your playlist right now?
I love Inner City's "Big Fun," the Antony and the Johnsons cover of "Crazy in Love," The Pixies's "Gigantic," and Billie Holiday's "Don't Explain."
If you were a car, what kind of car would you be?
I think I would be a 1960 Mercedes Pagoda. I would be navy blue and I would have a cherry red interior.
What's another decade you'd like to live in and why?
I think the time period in between the two World Wars. It seemed to be exciting and strange and kind of like anything could happen.
What's the secret to throwing a good party?
Your good friends, number one, and, number two, if it's summer I think a piscine is always good — that's a cocktail made with Champagne and ice. I was recently introduced to it by my friend Thomas Persson, who I think might be the best party host in the world.
What's one way your taste has changed since your teenage years and one way it stayed the same?
When I was a teenager I used to hate liver but now I love it. I also used to really hate pickled things and now I love pickled things. I think my musical taste stayed the same, I probably still listen to the exact same music. And also my friends.
What's your guilty pleasure?
Drag Race. I love Drag Race.
What are your favorite accounts to follow on Instagram?
Fjura florist. Thomas Persson — I think he's great. I follow Donlon Books, which is a great book shop. I follow the National Portrait Gallery, and I also follow Maureen Paley, which is probably one of the best galleries in London.
What's the last show you binge-watched?
The last shows I binge-watched were Drag Race and also Wild Wild Country, which was great.
What's your favorite…
Pair of jeans?
I'm not really a big jeans person. I tend to wear just trousers, like wool trousers but with a T-shirt and Stan Smiths. At the moment, I'm wearing these really great trousers from a place called Arthur & Fox and they're great. It's kind of somewhere where your dad would shop and I love them.
T-shirt?
I love Patagonia. I grew up wearing Patagonia, I still kind of dress the same way I did when I was in high school.
Pajamas?
I'm not a big pajama person. I'm more inclined to wear a pair of boxer shorts, probably Sunspel. Just white cotton boxer shorts — very simple.
Flower?
Poppies. I love the color, and I love the kind of paperiness of them. There's an amazing florist in London that I love and I've worked with before named Fjura and they're really wonderful; they do some great things with the poppy.
Chocolate?
I'm not a big chocolate person. I would much rather anything pickled from Fortnum & Mason. Pickled onions, pickles, pickled eggs — love pickled. I also like a jumbo-sized bottle of Tabasco.
Fragrance?
I wear Frédéric Malle Vetiver Extraordinaire. I love it, I wear it, and it works for a long time. I also love Santa Maria Novella's Vetiver, it's great.
Sheets/linens?
That's very much my other half's world, but Frette are great. Just solid white.
Lip balm?
Paw Paw. I like the one in the yellow tube.
If you buy something through our links, New York may earn an affiliate commission.