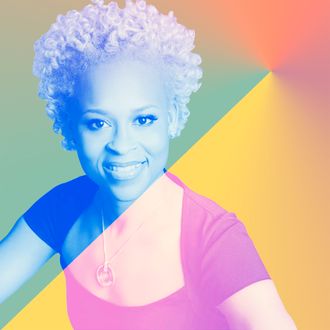 Her favorite subjects were math and science, she skipped the fourth grade, and her hobbies were building model airplanes and crocheting. Unilever's Esi Eggleston Bracey had her sights set on becoming an M.D.–Ph.D. when her age was still a single digit. If you'd asked this child of a math teacher and an attorney for the underserved how she'd feel about running a company someday, she likely would have winced.
"I thought business was like that movie Wall Street." A corporate recruiting process after trying pre-med and bioengineering at Dartmouth led her to Procter and Gamble, where she learned that marketing didn't have very much in common with Gordon Gekko (and came up with the idea for Febreze in a smoke-filled bar). As executive vice-president and COO of personal care at Unilever North America, Bracey says, "Marketing is about human insights, problem solving, working with teams to get things done. She has made it her mission to steer the brands she oversees (including Dove, Tresemme, Axe, Shea Moisture, and Schmidt's Naturals) to address the needs of its poly-cultural customer.
"America looks different than it did 20 years ago," says Eggleston Bracey. "As brand builders, it's really important for us to make sure we're showing reality in our beauty, not just that one percent of the world."
"Love it or hate it, beauty is a source of identity for us as women. So much of how we define ourselves is based on our own sense of our beauty and how people respond to it. We all need to feel good about embracing that."
Eggleston Bracey spoke with the Cut about her beach heels, her girl crush on Tiffany Haddish and her favorite French phrase.
Cleanser of choice: Fresh Soy Cleanser, Simple Cleansing Wipes.
Moisturizer of choice: Shea Moisture Coconut Oil for Face.
Scent of choice: Fresh Sugar, Jo Malone London Lime Basil & Mandarin.
Style icon? Solange and my friend Kim Blackwell.
Work icon? Oprah.
What do you carry your stuff around in? A huge black Gucci tote. It holds everything, including my computer.
Work shoe of choice: Shoes (or boots, to be more precise) are my ooh la la. Lately I'm loving my Fendi boots, but I switch it up all the time. I wear boots all year round.
Casual shoe of choice: There is no such thing. Even at the beach, it's flip-flops but with a heel!
Jeans of choice: Jeggings.
What fashion look do you scratch your head at? Tie-dye.
What fashion look do you struggle with achieving? Romantic floral.
Favorite smell? Vanilla.
Least favorite smell? Pet food.
What celeb would be your friend if only you two met? Tiffany Haddish.
What name did you wish you had as a kid? Bernadette. I made it my Catholic baptism name. I cringe when I think about it now, but it makes sense. Esi means "little girl born on Sunday" in the Ga language (in Ghana), and my middle name, Johari, is Swahili for "Jewel."
What phrase or word are you known for saying? Ooh la la. I didn't realize I said it all the time until my son told me.
What song is currently in your head right now, and are you happy about it? Janelle Monáe — "Make Me Feel." Love it!
What item stresses you out if you're running low on it? Zyrtec and Tom Ford Wild Ginger Lip Stick.
What are you working on mastering? Consistent healthy living. Since running the New York marathon in 2017, I've been episodic.
What or who makes you laugh? My 8-year-old son. He cracks me up. My daughter cringes because she thinks he's corny.
Favorite meal and where? I'm such a foodie. I love the smoked mozzarella at il Mirtillo in Geneva, lobster marsala at Tamarind, the sushi platter of the day at Sushi Gari, and langoustines at Cesca Upper West Side. But my all-time favorite is my homemade seafood gumbo.
Most recently binged TV show? Power. Before that, Big Little Lies.
What do you wish you had invented? Peloton. And, of course, the fountain of youth.
What product in your domain is misunderstood and should be a best seller? Ponds Cold Cream — it's amazing. It removes makeup beautifully while nourishing your skin.
What do you foresee as the top beauty trends in 2018? Healthy skin. Glowing healthy skin is so, so in, and lots of steps for care — sheet masks, toners, cleansers, sunscreens, eye treatments. I foresee a bit less emphasis on that super flawless makeup look.
If you won the Power Ball tomorrow, what are the first five things you would do? (after, of course, donating the majority of it to your top charities …) I would buy a bigger apartment in NYC (I love NYC, but could definitely use more space!), plan a five-week around-the-world trip for next summer with the family, start my own business, broaden investments including cool businesses, people, and ideas I believe in. And do something special for my parents.
If you buy something through our links, New York may earn an affiliate commission.