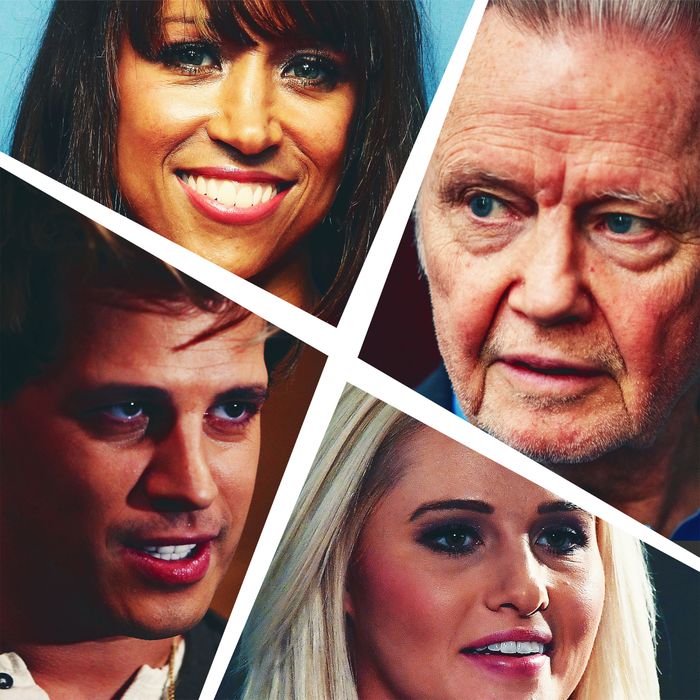 Recently, a number of bizarre reports have emerged about a pro-life Roe v. Wade movie currently in production, including graphic scenes featuring "buckets of baby fetuses," cameos by the likes of Tomi Lahren and Milo Yiannopolous, countless cast and crew members dropping out over the script's explicit content, and, most recently, an on-set assault of a Daily Beast reporter who has been covering the film. Here's everything we know about the controversial propaganda piece:
What the heck is this movie?
According to The Hollywood Reporter, the film — currently filming under a fake title — will chronicle "the 1973 Supreme Court decision that guaranteed a woman's right to an abortion" while featuring a "pro-life tilt," which seems like a bit of an understatement.
"ROE V. WADE is the untold story of how people lied, how the media lied, and how the courts were manipulated to pass a law that has since killed over 60 Million Americans," reads the film's crowdfunding page on GoFundMe. It went into production this past June and has been shooting down in New Orleans.
Here's a trailer:
What are some of the most egregious things in it?

Hoo boy. The Daily Beast obtained a copy of the script, which they describe as "riddled with typos, inaccuracies and misquotations" designed to advance a pro-life viewpoint.
For starters, the film reportedly frames the reproductive-rights movement as an elaborate racist conspiracy theory. One scene features Margaret Sanger, the founder of Planned Parenthood, speaking to abortion-rights activist Lawrence Lader before she's about to die. Her final words are "We do not want word to go out that we want to exterminate the Negro population. Larry, they can't see this coming." In including this (entirely fictitious) scene, the film echoes a popular conservative allegation — debunked here by Politifact — that Sanger was a white supremacist who wanted to use abortion to "kill black babies."
The film also sounds pretty anti-Semitic (are you surprised?). Its villains are the leaders of the abortion rights movement, such as Lader and Betty Friedan, who the Daily Beast says are "depicted as a shady cabal of rich lefty Jews who meet in exotic locations like St. Croix and the Russian Tea Room to boast about the money they're raking in through abortions —over daiquiris or pastrami sandwiches." At one point, Lader claims "We control the media … They write whatever we tell them."
The film ends with the notorious series of undercover videos taken by an anti-abortion group that fraudulently billed itself as "The Center for Medical Progress," which purport to show that Planned Parenthood profits off of the sale of fetal tissue — a claim Planned Parenthood has vociferously and repeatedly denied.
Who's making it?
The filmmakers are Nick Loeb and Cathy Allyn. Loeb, you may recall, was most recently in the news regarding a very public custody dispute he had with his former fiancée Sofia Vergara over her frozen embryos. Beyond that, Loeb has an interesting career history according to his Wikipedia page; it includes a smattering of minor acting and producing gigs, a job at Lehman Brothers (Loeb is a scion of the financial-giant Loeb and Lehman families), and a job on Rudy Giuliani's 2008 presidential campaign. He also founded "the Crunchy Condiment Company," which makes a fried onion topping called "Onion crunch."
Allyn doesn't have much of an online presence, but she appears to be a writer and producer who has in the past gone under the name Cathy Beckerman, producing a handful of independent horror and sci-films.
Who is in it?
Many of Hollywood's most vocal social conservatives have signed on to the film, including Jon Voight and Robert Davi, who both play Supreme Court justices. Stacy Dash, Clueless star turned conservative pundit, will play Mildred Jefferson, who founded the National Right to Life Committee. Corbin Bernsen, John Schneider, Steve Guttenberg, Greer Grammer (Kelsey's daughter), Joey Lawrence, Jamie Kennedy, and Loeb himself also have roles. The film is executive produced by Martin Luther King's conservative niece Alveda King (within the film, MLK himself is falsely depicted as a pro-lifer).
Any hot cameos?
You betcha! Tomi Lahren and Milo Yiannopoulos both reportedly have cameos in the film, with Yiannopolous playing an abortion doctor who is "an Anglo-Jew from India, with an unusual habit of an awkward giggle at the end of every sentence." One scene reportedly features him "coldly performing 32 abortions in five hours before bragging about his efficiency and profitability."
These controversial casting decisions were kept secret from the rest of the cast, lest any of them drop out. "There are lots of surprising cameos from controversial people in the news that I can't tell you about — or more people might walk off the set," Loeb told THR.
How graphic is the film?
The film reportedly features "several graphic scenes depicting aborted fetuses." In one sequence, police officers conduct a sting on an abortion doctor's hotel room and discover "a dozen buckets of tiny fetuses and baby parts."
While Loeb has said the film would be PG, the Daily Beast's Marlow Stern says that based on what he's read it would surely be R-rated or worse.
Did anyone drop out?

A number of cast and crew left the project after reading the script. Crew members have alleged that the filmmakers misrepresented the project to them, and that they handed out a "whitewashed synopsis" to contacts at different filming locations in order to be granted access. Both the director and assistant director quit on the first day (which is why Loeb and Allyn are now directing), as did the costumer, location manager, and several other crew members. The project also lost actors Stephen Baldwin (father of Hailey Baldwin, a.k.a. the soon-to-be Mrs. Bieber) and Kevin Sorbo, who dropped out after reading the script. If your movie is too conservative for Stephen Baldwin and Kevin Sorbo, that's a pretty glaring red flag.
What's the vibe on set like?
It sounds like a total nightmare. A number of universities have blocked the movie from filming, as did a synagogue that the film rented out for catering in New Orleans. Most recently, Daily Beast reporter Will Sommer says he was assaulted by a crew member and had his notes snatched from him while reporting on the film.
Per another crew member who spoke out anonymously, directorial incompetence has also been an issue:
"The first day of shooting, the actual director and the first AD quit. So then they decided that Cathy was going to be the main director, and she has very little experience, so she and Nick have no idea what they're doing. Shots aren't being set up right, and there have been communication problems with the cast … There was a moment where Joey Lawrence was trying to do a scene and Cathy said to him, 'Now make a face like this,' and he called her out and said, 'That's not what a director does. You tell me what I'm feeling and where I'm coming from, you don't just say to make a face.' A lot of actors are fed up with it because it's amateur hour."
Are we ever gonna see the film?

According to a THR report yesterday, the movie is "hanging by a thread," and Loeb is trying to quickly raise $1 million to finish the film. (He reportedly raised $2.5 million of the $3.5 million budget before the film began.) Still, one prospective investor said he believes "deep-pocketed members of the pro-life movement" will fly in to the rescue, and Loeb has been actively downplaying the film's financial concerns.
As of now, the film is reportedly scheduled to come out in January. "We've been told that the film will open in 1,000 theaters," said another crew member, "but everyone's been lied to so much that we have no idea what's true anymore."