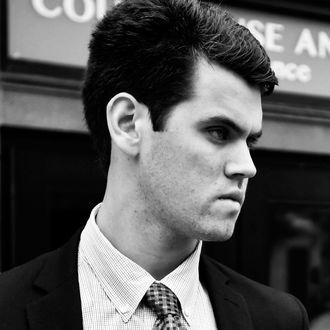 Ryan Burke and his attorney.
Photo: Abby Drey/AP
Ryan Burke, a 21-year-old former member of Penn State University's (now banned) Beta Theta Pi fraternity, will spend three months on house arrest for his involvement in the hazing death of Timothy Piazza, who was 19. Piazza died during a hazing ritual in February 2017, which involved drinking "large amounts of alcohol," according to the New York Times.
After being forced to drink, Piazza and the other pledges were sent to complete an obstacle course called "the gauntlet." Burke, who was "rush chair," was seen in video footage giving Piazza vodka after the gauntlet challenge. According to the Centre Daily Times, Piazza had 18 drinks in 82 minutes. He then fell down the basement stairs of the frat house, and became unconscious. Burke and three other frat brothers carried him upstairs.
An ambulance was not called for 12 hours, and Timothy Piazza died two days later, on February 4, 2017, in the hospital surrounded by his family. Burke was one of 26 defendants charged in connection to Piazza's death. Burke pleaded guilty to nine charges — down from an original 17 charges — which included four counts of hazing. Along with three months of house arrest, Burke will be on probation for 27 months, serve 100 hours of community service, and will be fined $3,000.