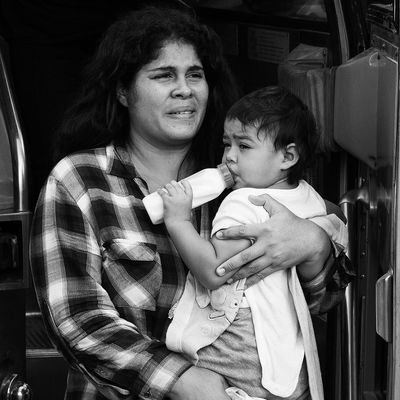 Photo: Loren Elliott/AFP/Getty Images
On Thursday, the Trump administration claimed it had successfully met a court-appointed deadline to reunite immigrant families torn apart by its inhumane and short-lived family-separation policy. And yet, only 1,442 of the over 2,500 children over the age of 5 torn away from their parents and guardians have been reunited so far, according to the Immigration and Customs Enforcement agency. (The government already failed to meet its July 10 deadline to reunite immigrant families with children under 5.)
In addition, 378 were discharged in "appropriate circumstances," presumably to guardians or other family members. This means that of the 2,531 children concerned, 711 have not been reunited with their parents, and remain in government custody. How does this count as meeting the firm deadline imposed by U.S. District Judge Dana Sabraw back in June?
The government gave itself considerable leeway to meet its reunification goal by restricting which parents are "eligible" to be reunited. As The New Yorker reports, at a hearing on Tuesday, Department of Justice officials presented Judge Sabraw with a list of 914 parents it had determined were "either not eligible, or not yet known to be eligible, for reunification."
These parents fell into one of four categories:
463 parents are "not in the U.S."
The government deemed over 400 parents ineligible for reunification because they are not in the U.S., and have almost certainly already been deported. The New Yorker points out that these parents are theoretically covered by Judge Sabraw's reunification order but "the government doesn't know where they are and has claimed it can't begin to guess how long it will take to try to find them."
It is unclear how the government will handle these children's cases.
127 parents have waived reunification
Or so the government says. In fact, advocacy groups argue, it is unclear whether many of these parents understood what legal documents they were signing when they waived their rights to be reunified. One woman told The New Yorker that several mothers she spoke to at a detention center in Texas were illiterate, and said that they signed reunification waivers because officials told them it would allow them to see their children sooner.
What's more, CNN reports that a claim filed by the American Civil Liberties Union on Wednesday — which calls for reunited families to have seven days together before they are deported — points out that many of the immigrants who have been separated from their children come from areas in Central America where only indigenous languages are spoken, and they don't understand the forms presented to them in English or Spanish. Others told ACLU lawyers they felt coerced to sign the documents, or that no explanation of the waiver's contents was provided.
So, it is unclear how many of these 127 parents knowingly waived their right to be reunified with their children.
64 parents have a "prohibitive criminal record"
What exactly constitutes a "prohibitive criminal record" for detained parents is a little murky.
As Kate Melloy Goettel, an attorney with the National Immigrant Justice Center, told The New Yorker, "Sometimes, we're just dealing with allegations of criminal activity, not actual convictions. The government isn't always sharing the evidence, so we've been hampered in how we can contest the charges."
Though it is unclear what the charges against these 64 parents are, administration officials provided a list earlier this month of charges that made parents ineligible to be reunited with their children under 5, and these included two DUIs, and being "wanted by El Salvador."
260 parents need "further evaluation"
The most confusing category is the group of 260 parents whom the government has determined need "further evaluation." It is unclear what kind of evaluation this entails, or how long it could take.
In short, the government seems to have twisted the parameters of reunification so it could declare a success on Thursday, even though they still have hundreds of immigrant children in their custody, and no clear plan on how to reunite them with their families.
"The only deadline they are meeting is the one they have set for themselves," said Lee Gelernt, the lead counsel for the American Civil Liberties Union, in a press call on Thursday. "The government should not be getting applause for cleaning up their own mess, but moreover, they're still not meeting the deadline for all the families."