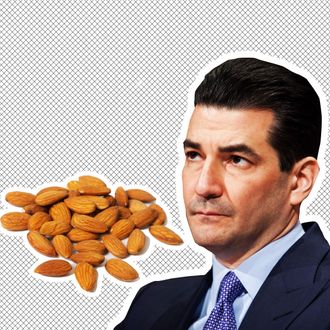 Almonds (nondairy) and Scott Gottlieb.
Photo: Getty Images
Of the many scourges threatening the United States today (the opioid crisis, inhumane immigration policies, Build-A-Bear promotions) Food and Drug Administration Commissioner Scott Gottlieb has identified perhaps one of the most dire: nondairy milks.
In his keynote address at Politico's Pro Summit on Tuesday morning, Gottlieb announced that the Trump administration plans to crack down on the use of the word "milk" for nondairy products like almond, soy, and coconut milk. Why? According to Politico, Gottlieb revealed:
"An almond doesn't lactate, I will confess."
Whoa.
The FDA chief also said that his agency will soon release guidance on its new, lactation-only "standards of identity policies for marketing milk."
Gottlieb is not the first to try to address this issue. In early 2017, Wisconsin senator Tammy Baldwin introduced a bill that would ban companies from using the term "milk" for nondairy products, but it never got anywhere.
"This is going to take time," Gottlieb told the audience at the Pro Summit, before reassuring them "It's not going to take two years," but that it would take "something close to a year."
So in a year-ish, get ready to start ordering your morning coffee with watered-down oat slime.