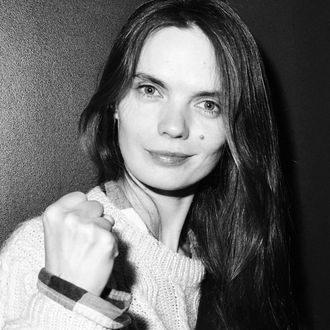 Oksana Shachko.
Photo: Foc Kan/WireImage
Femen co-founder and Ukrainian artist Oksana Shachko, 31, was found dead in her Paris apartment on Monday, July 23. The feminist group posted to their blog announcing the news on Tuesday morning.
"RIP. The most fearless and vulnerable Oksana Shachko has left us. We mourn together with her relatives and friends and expect for the official version from the police," wrote Femen. "At the moment it is known, that yesterday, July 23, Oksana's body was found in her apartment in Paris."
Shachko was a founding member of Femen, a feminist activist group known for their controversial, and often topless, political protests across Europe — including interrupting Woody Allen's jazz-band performance in Germany last year. Shachko was also one of the members of the group that was allegedly kidnapped, forced to strip naked, and beaten by KGB agents in Belarus in 2011.
French authorities have not released an official cause of death, and the Ukrainian embassy confirmed her passing to a Russian-language television network.
In a separate post on the Femen website, Shachko was described as "one of the heroines of our time." She was remembered as a real fighter, someone who "fought against injustice, fought for equality, fought for herself and for all women as a hero."
This post will be updated as more information becomes available.