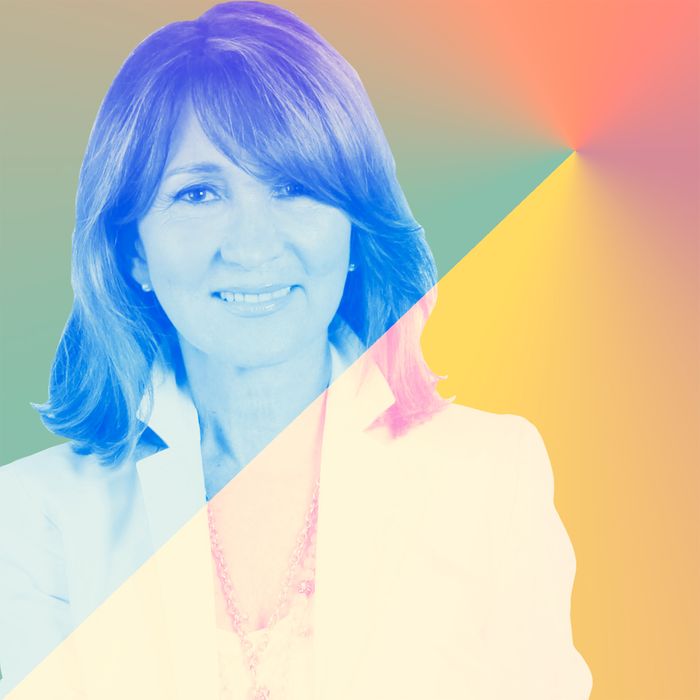 Gail Federici was known for her hair skills early on.
"I had to figure hair out because my own was so difficult, so all the girls would line up outside my dorm room for me to their hair," she remembers. "But I certainly never had a desire to get into that business."
Several years ago, she met a handsome Brit hairdresser named John Frieda. "I didn't know this guy from Adam, but I could see how marketable he was, and he knew how to do product," remembers Federici. "I told him I had an idea for a frizz-fighting one." And thus, John Frieda's Frizz-Ease was born.
"The word 'frizz' did not appear on one product back then," she points out. "In fact, with the exception of products for ethnic hair, every styling product was aimed at adding body. There was nothing that took body out."
Frizz-Ease flew off the shelves. Lines like Sheer Blonde and Brilliant Brunette soon followed. In 2002, Japanese behemoth Kao Brands offered to buy it. After much negotiating (she wasn't quite ready to let her baby go), she and Frieda sold it for a mind-boggling $450 million.
A five-year noncompete clause prompted a shift to the music industry (her twin daughters are singers), but hair eventually pulled her back. Gray hair, specifically. She and chemist Joe Cincotta (from the Frieda days) tinkered with a powder formulations that could cover gray roots. After one test iteration, her sister reported back it lasted after a full day of swimming.
Color Wow received a resounding "Wow!" from gray-roots sufferers. Since its launch in 2013, Color Wow has expanded both its shades and its product offerings, including the latest, Dream Coat for Curly Hair. Federici spoke with the Cut about her Cher impersonation, the ongoing power of influencers, and why she's on a mission to declutter shampoo.
Bath or shower? Shower with Fresh Brown Sugar Scrub.
Facial cleanser of choice: Time Bomb Take Off Time Cleanser.
Scent of choice: Chanel Chance.
Mascara of choice: I rub my eyes a lot for some reason so if I use mascara, I eventually look like I have two black eyes. I tend to use Duart false lashes by Vjosa Pacuku because they are really lightweight and natural, and I'm slightly aware they are there so don't touch them.
What, if anything, is usually on your lips? Charlotte Tilbury Matte Revolution Lipstick in Pillow Talk.
What shade, if any, is usually on your toes and/or hands? Opi Sweetheart.
Favorite piece of furniture you own: My bed.
Bed linens of choice: I don't have a favorite brand, but I look for Egyptian cotton 400 thread count. The softer the better.
Purse (or daily carryall) of choice: Celine tote.
Work shoe of choice: Converse All-Stars.
Most used item in your pantry? Frank's Hot Sauce.
Style icon: Audrey Hepburn.
Favorite podcasts: Pod Save America, The Axe Files, Tim Ferris.
What phrase or word are you known for saying? "Are you kidding me?"
What word do you overuse? Insane.
Last great book you read? Shoe Dog.
Best-selling book that you just couldn't get into? Sapiens.
What would the name of your autobiography be? Most Unlikely to Succeed
Who would star as you in the film adaptation? Meryl Streep — go big or go home.
Coffee or tea drinker? Coffee. Green Mountain Breakfast Blend K-Cups.
Favorite smell? The beach.
Least favorite smell? The beach at low tide.
What song is currently in your head right now, and are you happy about it? "Let It Go." I just went to see Frozen on Broadway with my granddaughter, and no, I'm not happy about it.
Name a trait or talent you possess that few know about you: I can impersonate Cher.
What are you working on mastering? Meditating.
What technology or app do you rely on most? Instagram or AAPTIV.
Most frequently used hashtag: #family
Favorite meal and where: Anything at Nobu Malibu.
Comfort food: I make penne or angel hair pasta with butter and cheese.
Most recently binged TV show: Billions.
What product in your domain is misunderstood and should be a best seller? Color Wow Shampoo, no question. Shampoo is the most important hair-care product, yet many people think it really doesn't matter that much which one you use. There are so many ingredients that have found their way into shampoos over the years that don't easily rinse out, i.e. silicones, conditioning agents, thickening resins, etc. These ingredients stick to the hair and scalp weighing hair down, dulling it and worse, can cause hair loss. We've eliminated these ingredients. If a shampoo promises to do more than clean (de-frizz, thicken, moisturize, etc.), run!
What do you foresee as the top beauty trends in 2018? Social media will continue to influence hair trends. Influencers from all over the world are giving tips, how-to's and inspiration from their various cultures. Consumers are even more educated now and can express themselves more creatively.
If you won the Power Ball tomorrow, what are the first five things you would do? (After, of course, donating the majority of it to your top charities.) I feel like I've already won the lottery, but if I was to get a windfall tomorrow, I'd put a lot of it into organizations that represent my political views. I'm very concerned over the direction this country is taking, so I would support the various candidates and organizations that can effect the change I would like to see.