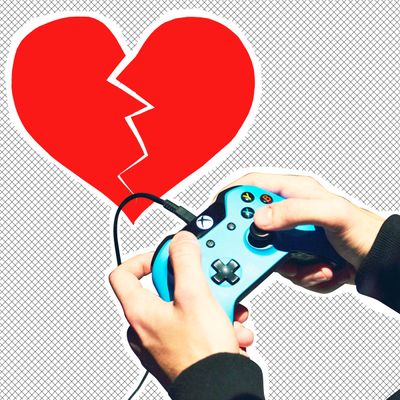 Perhaps you've felt it: a chill in the air, a hollow feeling in your chest, a numbness when you look into the eyes of the one who once set your heart a'flutter. It's true, folks. It is with great sadness that I must confirm struggling pro gamer Doug "FaZe Censor" Martin has dumped his longtime girlfriend, "World's Sexiest Weathergirl" Yanet Garcia, to recommit himself to Call of Duty. Love is dead. RIP.
As the U.K.'s Sun newspaper reports, Martin recently posted a ten-minute YouTube video explaining to his fans why he chose to end his three-year relationship with Yanet, and addressing the age-old question: Can professional gamers really "have it all"?
Over the course of the video, titled appropriately "WE BROKE UP," Martin says that though he loves Yanet, her recent move to Mexico City to pursue her dream of sexy weathergirling and his recent move to playing Call of Duty full-time, put too much of a strain on their relationship:
For me to manage bring a professional Call of Duty player, being a gym shark/athlete, being a YouTuber, making videos, playing Call of Duty full time, taking care of two dogs, having a house and going through renovations, and then also having a girlfriend… It's like I had to pick my poison of what I wanted to spend my time and focus on. There's only 24 hours in a day, and I just didn't have time to do everything that I needed to do.
According to the Sun, and a sentence I don't fully understand: "Martin has struggled this year, missing out on the first stage of the 'Call of Duty World League' before signing up with a different team that had secured a place in Stage 2 to ensure he got there."
"She wants to be an actress. I want to be an actor. I want to win a Call of Duty Award Championship," Martin said in the video. "Chase your dreams, life is too short. You gotta do what you want in life."
Garcia — who works as the resident meteorologist for Mexico City's morning news program Hoy and has, as previously mentioned, been dubbed the "World's Sexiest Weathergirl" (it is unclear who bestowed this title upon her) — shared the news with her followers in a tweet that read: "Heartbroken *broken heart emoji* *sad face emoji*".
Yesterday, she also posted clips from her recent Maxim Mexico cover shoot with the caption, "Believe in yourself."
Damn. If these two can't make it, what chance do the rest of us have? How can we be expected to go through the motions of meeting new people, of opening ourselves up to them, of letting ourselves be seen and appreciated for the messy, beautiful, flawed humans we are, when we know that even a struggling professional gamer and sexy meteorologist can't make it work? What's the point?
At least we have our memories.