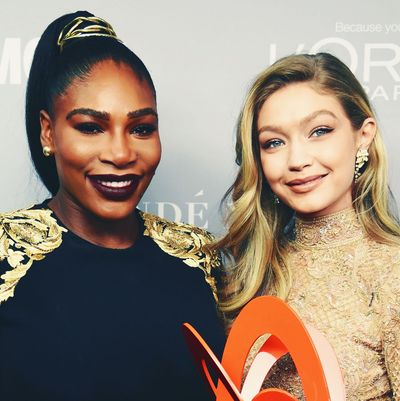 Serena Williams and Gigi Hadid.
Photo: Dimitrios Kambouris/Getty Images for Glamour
Serena Williams isn't short on famous friends. The tennis GOAT is apparently close with supermodel Gigi Hadid; she even said Hadid is "one of the few people on this planet I'd leave my baby for — for one night." The two have more in common than you think: not only is Hadid pretty sporty — she headed to the Junior Olympics qualifier for volleyball in high school — but both women also work in cutthroat industries alongside their sisters.
Despite her competitive streak, Hadid told Williams in an interview for V Magazine that she and her sister Bella "are more competitive about holiday cooking" than their careers.
It's very rare to have what Bella and I have in fashion, what you and Venus have in tennis. I feel very lucky to be able to have a piece of home in my work environment. We are each other's biggest fans.
Williams, who has competed against her older sister Venus over two dozen times, was curious about what advice Gigi gave Bella when she was starting out. Gigi responded:
I personally really loved the challenge of learning a lot of the fashion ropes on my own when I started working in New York, so I didn't want to take that experience away from Bella when she started. I was always there whenever she had a question about a specific client or situation, but I tried not to be too protective, which comes naturally to me with her. We're always FaceTiming to keep each other company on work trips.
Here's to healthy competition.