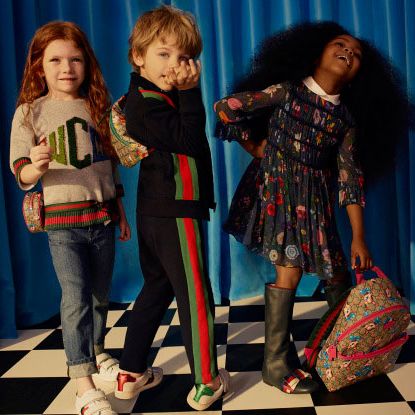 Gucci kids.
Photo: Courtesy of Net-a-porter
If you know a very fancy toddler who prefers only the finest boho dresses and cardigans, let them know that Net-a-Porter's first kids collection is coming soon, and it's Gucci.
Net-a-Porter collaborated with Gucci to create a six-week digital pop-up shop, launching on July 16, but Net-a-Porter officials expect it to sell out soon. It's the luxury online retailer's first collection for the under-13 set, though Gucci has been making children's clothing for a while. The clothes are unisex and designed for babies up through 12-year-olds.
Gucci designer Alessandro Michele's aesthetic for the Italian brand has, at times, been dark. He's incorporated death, mythical creatures, and disembodied heads into his pattern-heavy collections. This collection is more playful without sacrificing the Gucci-ness. Michele decorated logo tees with tigers, fanny-packs with dragons, and Kelly-green cardigans with embroidered cats. Other classic Gucci motifs, like green and red grosgrain ribbon, pop up in many of the preppier pieces. And of course, there are fur loafers for tots.
Scroll to see some of the outfits Net-a-Porter has planned.