Under creative director Alessandro Michele, Gucci has proven to be uncannily good at harnessing the power of social media to stoke desire for his vision. The house has especially mastered the art of building buzz on Instagram—the platform most closely linked to our luxury aspirations—with unexpected artist collaborations. This week, Gucci debuts its most ambitious yet: #TimeToParr, an Instagram-only portfolio by famed British documentary photographer Martin Parr that's both a celebration of the brand's new timepieces, and a world tour of the "Gucci Places" that inspire Michele.
But the choice of Parr reveals that this won't be your typical gauzy, removed-from-reality fashion campaign. Best known for his candid, playful portraits of working-class Brits relaxing seaside, and the global ultra-wealthy as they shop and socialize, Parr's work takes an arch look at how we concept class, leisure, luxury, and travel. If those meanings are easy to miss on the surface, don't be fooled. Parr's work is anthropology—it only looks accidental.
Parr's portfolio takes us inside Gucci Places from Harlem to Hong Kong, and features people caught in thought or quotidian action. If most street photographers specialize in the "decisive moment," Parr's habitat is all the other moments—the ones no less telling that, after all, make up the bulk of our time. Like Michele, Parr's point of view both celebrates and sends up the Gucci mythos. The resulting images are a refreshing antidote to the obsessively composed, ruthlessly curated images churned out by most aspirational brands—and that fill your Instagram feed.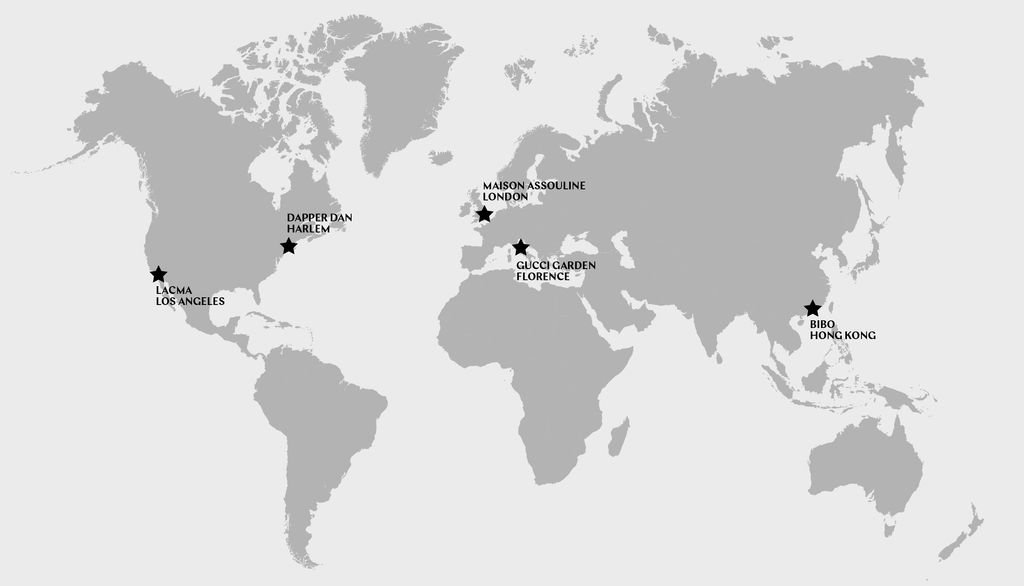 One of the most noteworthy stops on Parr's world tour of Gucci Places is Florence's Gucci Garden. This historic space was totally reimagined by Michele and curator Maria Luisa Frisa, and now features a boutique selling exclusive items, a dramatic green-walled restaurant helmed by a thrice Michelin-starred chef, and a museum of historical garments, advertising, and other ephemera. It's a one-stop shop for the Gucci obsessive, and a love letter to the history and present of the house.

(1) One of Parr's photographic signatures is highlighting the gap between, as he puts it, "the mythology of a place, and its reality." In this case, he shows us that no visit to a European landmark—not even one as rarefied as Florence's Palazzo della Mercanzia—is without terrifyingly persistent pigeons.
(2) Another Parr motif, showing the quotidian hubbub that surrounds the world's tourist attractions and cultural sites. Here the opulent Gucci Garden plays backdrop to a holidaying couple's selfie.
(3) The Gucci Eye–both a classic house motif and the official symbol of the Gucci Garden–is featured on everything from jackets and vases, to the giant eye projected in pink on the outside of the Gucci Garden building at night. Here, Parr uses it as a backdrop for a G-Timeless watch featuring the house's classic serpentine motif.
Bibo is a restaurant in Hong Kong that serves classic French gastronomy in a 1930s-inspired dining room decorated with pieces by the luminaries of the modern and street-art world. Does that sound like a riot of contradictions? Yes, and that's probably the point. It also makes the restaurant the perfect backdrop for the magpie eye of Michele and Parr.

(1) Here, Parr captures the new G-Timeless watch in Gucci's iconic rose print against the backdrop of a vintage advertisement featuring an appropriately rosy-cheeked woman.
(2) Meanwhile outside, a modern-day denizen of Hong Kong models the artful G-Frame timepiece as part of a full-on, head-to-toe Gucci look—and enjoys a snack only a smidge less fancy than those Bibo's serving.
(3) Parr's detail of a tattooed Bibo customer sporting the G-Frame watch in Gucci's iconic green and red web catches the contrast between edgy and extravagant that says a lot about where luxury is in 2018.
When it opened in 2014, Maison Assouline brought more than just the world's fanciest bookstore to London—it brought a full-on oasis of culture to the din that is Piccadilly. Now locals and far-flung visitors alike can duck into this landmark 1922 building to shop its expertly-curated selection of art monographs, uber-rare first editions, custom furnishings, antiques—or just to escape the tourist throngs.

(1) With this campaign, Gucci is, quite literally, playing with time. Filtered through Parr's arch lens, that translates to the G-Timeless watch juxtaposed with the crossing light's flat admonishment to WAIT. We see what you did there, Martin, and after the British custom, we'll sigh gently to ourselves and wait for these double-deckers to pass.
(2) The women's G-Timeless in yellow gold, featuring a feline head in front and a hidden bee engraving on the reverse. Per Parr's suggestion, it may even be worn atop one's opera gloves.
(3) Go ahead and judge Maison Assouline by its cover. As the triptych on its stately facade notes, inside you'll find all manner of culture, a cozy cocktail nook known as Swans Bar, and of course, books covering every possible facet of the fabulous life. A bougie bibliophile's heaven.
Under Michele, it's finally all love between Gucci and the don of Harlem hip-hop fashion, Dapper Dan. Twenty-five years after the closing of Dapper Dan's Boutique over the designer's alleged (ahem) extra-legal use of luxury logos, Gucci partnered with Dan to open a brand-new atelier on Harlem's famed Lenox Avenue. There, Dapper Dan conceived his brand-new Gucci collab, and those seeking a taste of the fabulous life can once again be fitted for bespoke Gucci garments from bucket hats to boots.

(1) Harlem's changed a lot since Dapper Dan first opened his boutique there in 1982. Whether all that change is a good thing is a matter of some debate. But the fact that it's a hell of a lot easier to get a cab above 110th Street these days—that's something we can get behind.
(2) Dapper Dan's new atelier features plush velvet couches, curtains—the better to block out the noise of Lenox Avenue, the thoroughfare at the heart of black life in Harlem—and portraits highlighting Dapper Dan's unmatched influence as hip-hop couturier.
(3) Parr captures the G-Frame watch featuring the house's iconic jacquard stripe motif nestled atop a bed of Gucci fabric scraps that are undoubtedly being spun into gold by Dapper Dan as we speak.
If you don't know Los Angeles' premier art museum as a visitor, or as the site of Gucci's annual Art + Film Gala, you surely recognize the unmistakable sawtooth roof of its Renzo Piano-designed building, or Chris Burden's Urban Light installation featuring ghostly rows of white-painted antique street lights. If a tourist visits LACMA and does not produce a selfie with one of these in the background, did it even happen?

(1) LACMA's courtyard features a garden of 100 palm trees designed by artist Robert Irwin and landscape architect Paul Comstock. It's a tribute to one of the iconic sights of Southern California—and, understandably, a pooch paradise.
(2) In LACMA's courtyard, Parr captures a patron's brief communion with the eternal in a moment that maybe-intentionally nods to Michelangelo's "The Creation of Adam."
(3) Rodin cast many versions of his famous "The Thinker" statue and sadly, none of them are held among LACMA's vast collection. But Parr's capture of a museum-goer deep in contemplation offers us a modern—and much more fashionable—take on the theme.
All photography by Martin Parr for Gucci.
This is paid content produced for an advertiser by New York Brand Studio. The editorial staff of the Cut did not play a role in its creation.