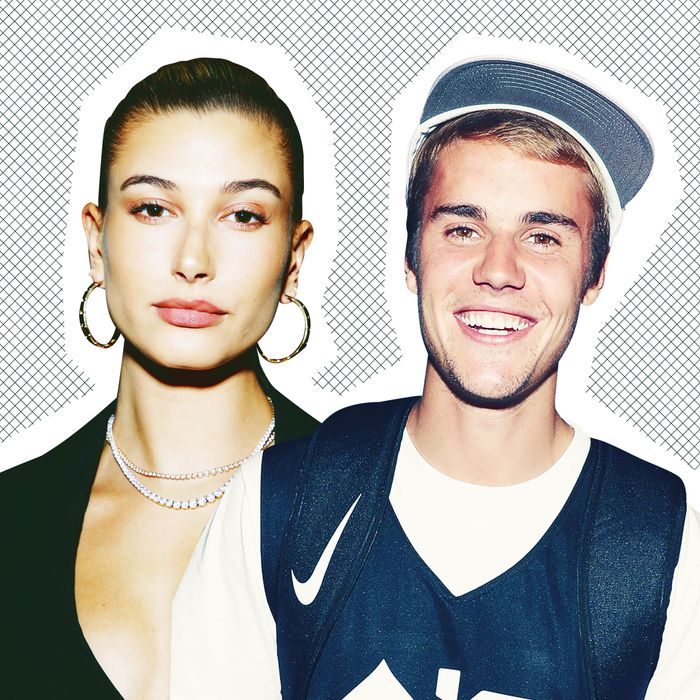 Hailey Baldwin, Justin Bieber.
Photo: Getty Images
Justin Bieber's engagement to Hailey Baldwin is definitely surprising, considering the two have been canoodling only since mid-June. But perhaps it's not all that sudden, considering the two have known each other for nine years. Come on the journey of their relationship — from the green room at the Today show where they first met to their engagement in the Bahamas. There's a lot to unpack here.
October 2009: Justin Bieber, then a wholesome teen heart-throb, meets Baldwin backstage at the Today show. She plays the part of the embarrassed teen and greets Bieber with her arms crossed. Her father, Stephen, tells Bieber, "We've been enjoying your music." Watch the awkward encounter below.
February 2011: Baldwin, still enjoying Bieber's music with her dad, attends Bieber's movie premiere.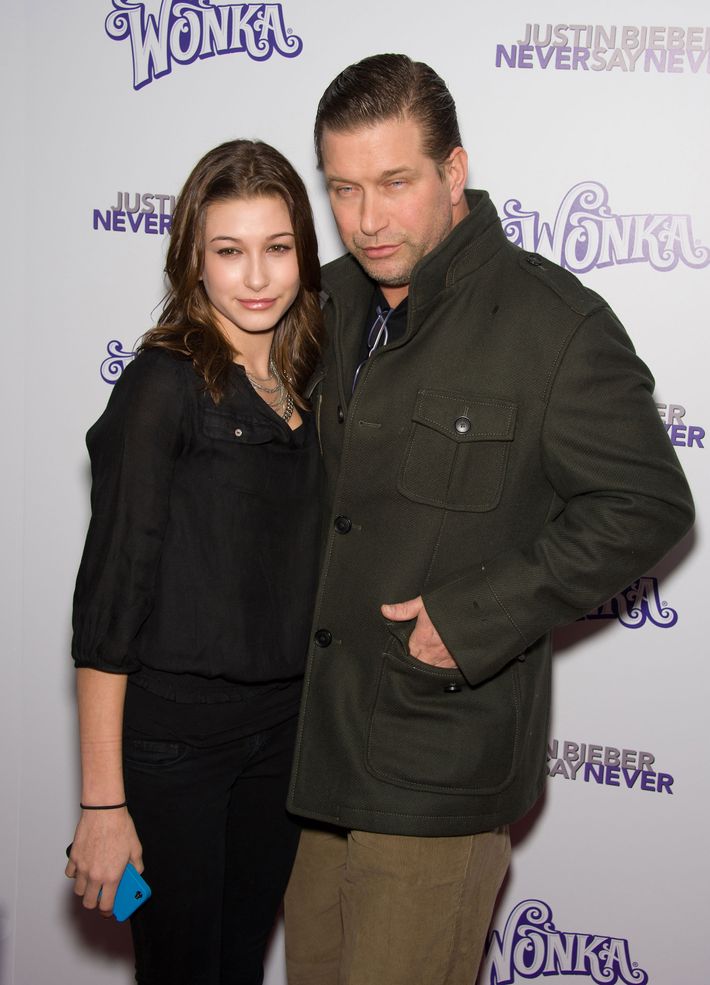 November 9, 2014: At this time, relationship rumors are swirling around Kendall Jenner and Bieber. But Baldwin gets to know Bieber through the Kardashian/Jenners; the whole clique goes to church together at Hillsong. This is right after his breakup with Selena Gomez, and while the two are writing songs about each other.
December 8, 2014: The first denial. Baldwin tells E! News on the red carpet that she is not dating Bieber. "We've just been good friends over the years," she insists.
December 15, 2014: Bieber posts a selfie of himself and Baldwin with the caption "People are crazy. I'm super single and this is my good friend u would know otherwise." The Biebs doth protest too much.
January 3, 2015: It's Instagram official: The two spent New Year's together, but didn't post any PDA (unless you count this wet willie). Two days later, they decide to live 2015 as a couple, and Bieber posts a prescient photo to Instagram.
February 11, 2016: Bieber describes Baldwin as a "friend who he kisses" in a profile for GQ by Caity Weaver. He then clarifies that she's "someone I really love. We spend a lot of time together."
Baldwin is in Bieber's apartment during the interview. She's "sitting on a pristinely made bed. She is doing nothing — no TV, no book, no phone, no computer, no music, no oil paints, nothing."
The same day, Baldwin tells E! that they are "not an exclusive couple."
August 15, 2016: Bieber unfollows Baldwin on Instagram.
August 22, 2016: Bieber dates his first unusually named girlfriend, Bronte Blampied.
August 27, 2016: Bieber and Sofia Richie (who is now dating Scott Disick) spend a romantic weekend together. Around this time, Baldwin does her best to be relatable in crop tops.
Late 2017: Bieber enters an on-again-off-again relationship with Selena Gomez after she breaks things off with the Weeknd.
November 2017: Baldwin starts dating Shawn Mendes, according to E! News.
December 2017: Bieber and Gomez go into Christian couple's therapy because she's upset he is still in contact with Baldwin.
March 21, 2018: Couple's counseling fails to work. Bieber dates a model named Baskin Champion; Gomez flaunts post-breakup ukulele.
May 7, 2018: Baldwin attends the Met Gala with Mendes, who sweetly attends to her gown's long train.
May 27, 2018: Baldwin delves into her relationship with Bieber in an interview with The Times. She says they're rekindling their relationship after "we went through a long period of time when we weren't friends."
June 16-17, 2018: Bieber and Baldwin are spotted making out all over Brooklyn.
June 23, 2018: They're Instagram official again!
June 24, 2018: They worship together at Hillsong — just like 2014. Then they get in a hot tub.
June 29, 2018: Baldwin erases all photos of Mendes from her Instagram.
July 2, 2018: The couple's Hampton's getaway turns sour when their Benz breaks down. Biebs directs traffic while Baldwin looks upon their broken-down Mercedes.
July 8, 2018: Bieber proposes at a restaurant in the Bahamas, per TMZ. Baldwin says yes! And accepts a giant ring. Bieber's dad posts, "Proud is an understatement." Stephen Baldwin tweets, then deletes.
July 9, 2018: The fiancés celebrate by … dancing poorly to "Despacito." L'amour!