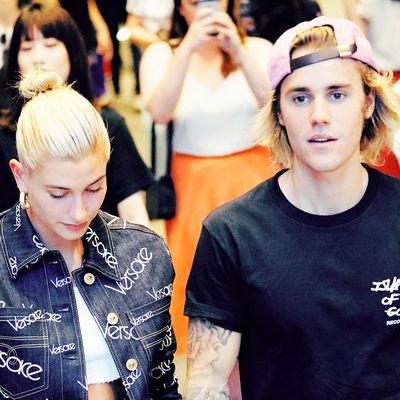 Hailey Baldwin, Justin Bieber.
Photo: Gotham/GC Images/2018 Gotham
It's a tale as old as … well … one month. Hailey Baldwin and Justin Bieber are following in Pete Davidson and Ariana Grande's footsteps by getting engaged weeks after they started dating. And just like Gravidson, the couple hasn't confirmed it yet, but Baldwin has been spotted wearing a huge ring.
Even the ring is similar to Grande's, who also received a giant, pear-shaped ring from her fiancé.
TMZ broke the news yesterday that Bieber proposed in the Bahamas to the model. A source confirmed to People, "it's kind of a surprise, but kind of not. Justin has been extremely happy these past few weeks. He has known Hailey for a long time. This might seem sudden, but they know each other very well."
That part is true. Baldwin and Bieber have been circling around each other for 9 years. Baldwin's actor father, Steve, introduced her to Bieber in 2009 backstage at The Today Show. He also played inadvertent matchmaker at one of Bieber's concerts two years later. Dating rumors swirled around the couple (they were going to church together!) until they went IG official in 2016. Their relationship lasted until mid-2016. Bieber went on to date Sofia Richie, Selena Gomez (again), and some models with interesting names.
On June 18, 2018, the two were seen making out all over New York. Now, they're engaged three weeks later. They grow up so fast!