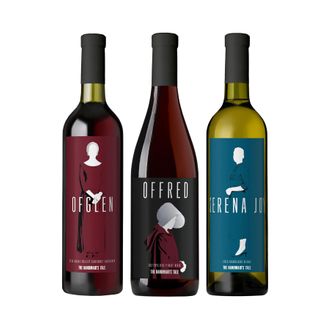 Updated on 07/11/2018, 9:50 a.m.: After significant social media backlash, this line of wines has now been canceled. Judge Brett Kavanaugh's nomination to the Supreme Court has not.
Ladies — I have a good news/bad news situation for you. On Monday, President Trump nominated D.C. Circuit Court of Appeals Judge and sentient pair of wrinkle-free Dockers Brett Kavanaugh to the Supreme Court. That's bad news for those of you who care about things like reproductive rights and the environment. The good news (?) is that women still have enough buying power to enjoy being shamelessly pandered to by brands, so we can now drown our sorrows in Handmaid's Tale–themed wine because, uh, sure, why not.
People exclusively revealed on Tuesday that the website Lot18.com has launched a line of wines inspired by three "bold characters" and violently oppressed fictional women.
Offred is a "rich and complex" Pays D'Oc Pinot Noir, and its "lush, fruit flavors of cherry and cassis are complemented by earthy flavors of mushroom and forest floor." Remember the scene where Offred is forcibly raped by Joseph Fiennes's character? Well, this wine also offers "a powerful experience you will never forget."
Ofglen is Offred's best friend who, in addition to also being forcibly raped like the other handmaids, is savagely beaten and sent to a labor camp because of her relationship with another woman. Lot18 describes her as "Gilead's most rebellious Handmaid"! Ofglen's wine is a Rogue Valley Cabernet Sauvignon that is a "daring testament to the heights that Oregon Cabs can reach" and has a "warm, spicy finish."
Lastly, the Serena Joy is a Bordeaux Blanc that has "layers of approachable white grapefruit and lemongrass," and that Lot18 says you shouldn't judge too quickly "lest you miss out on a sublime experience." Hm, I guess those would be the appropriate flavors to describe a woman who supports a system that oppresses other women, while also being oppressed by it herself.
They all sound pretty good — the perfect beverages to sip while the Supreme Court works to decimate the rights of our country's most vulnerable communities. Cheers!