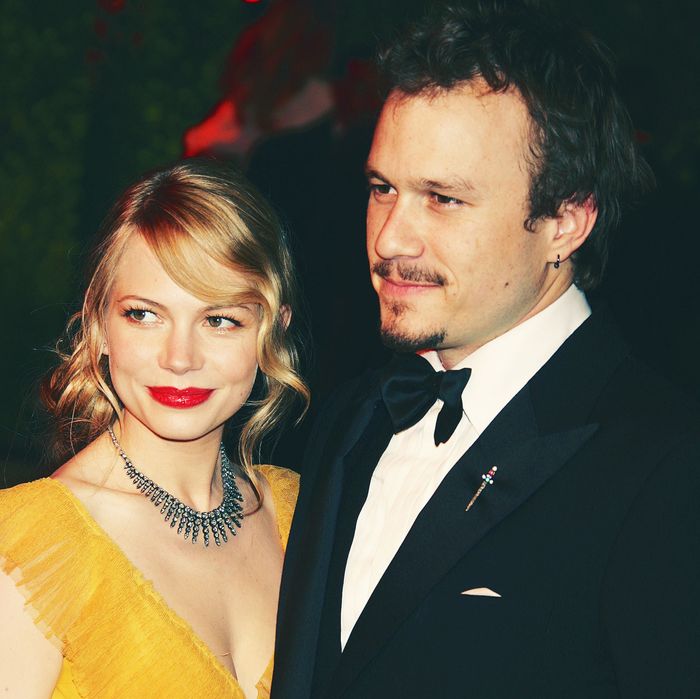 Michelle Williams and Heath Ledger in 2006.
Photo: Jeffrey Mayer/WireImage
Last week, Michelle Williams revealed in a profile for Vanity Fair's September issue that she recently married musician Phil Elverum, of Mount Eerie, in a secret ceremony in the Adirondacks. And in an interview with Australia's Sydney Morning Herald this weekend, Heath Ledger's father, Kim, said he and his family are "terribly happy" for Williams.
"She's very private and I don't really like to make too many comments about her, but we are very happy [for her]," Kim Ledger told the paper. He added that while he did not attend the couple's wedding in July, he was planning on visiting them in Brooklyn "soon."
Williams and Ledger dated from 2005 to 2007, separating shortly before Ledger's death. They had a daughter together, Matilda, who's now 12. Like Williams, Elverum is also a single parent who lost his partner to tragedy. He has a daughter, Agathe, 3, whose mother, artist Geneviève Castrée passed away from pancreatic cancer in 2015, just over a year after giving birth.
"Ultimately the way he loves me is the way I want to live my life on the whole," Williams told Vanity Fair. "I work to be free inside of the moment. I parent to let Matilda feel free to be herself, and I am finally loved by someone who makes me feel free."