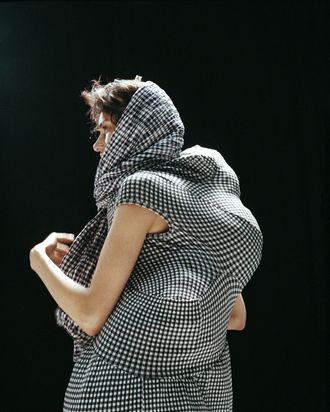 Comme des Garçons dress, $2,700.
Photo: Courtesy Totokaelo
We're currently in the throws of Epic Sale Season, but this is not your average clearance pile: Starting today, online resale site Grailed and its sister site Heroine have teamed up with Totokaelo to offer a gold mine of vintage Comme des Garçons pieces. At Totokaelo's flagship store at 190 Bowery, shoppers will find some of the brand's most sought-after items, including Comme des Garçons x Louis Vuitton handbags, women's runway looks from the '90s, and a rare men's staff cardigan from 1989. More than 50 archival pieces are on sale, ranging from $71 to upward of $5,000.
For Rei Kawakubo fans, this is reason to run, not walk. As Véronique Hyland wrote of the designer last year, her avant-garde work "reimagined what clothing could be, and she remains at the vanguard of her art." The designer's looks deconstruct the human form and pieces it back together again in new, strange ways. If nothing else, a visit to Totokaelo this week will feel like walking into a museum.
Below, see a preview of the sale.