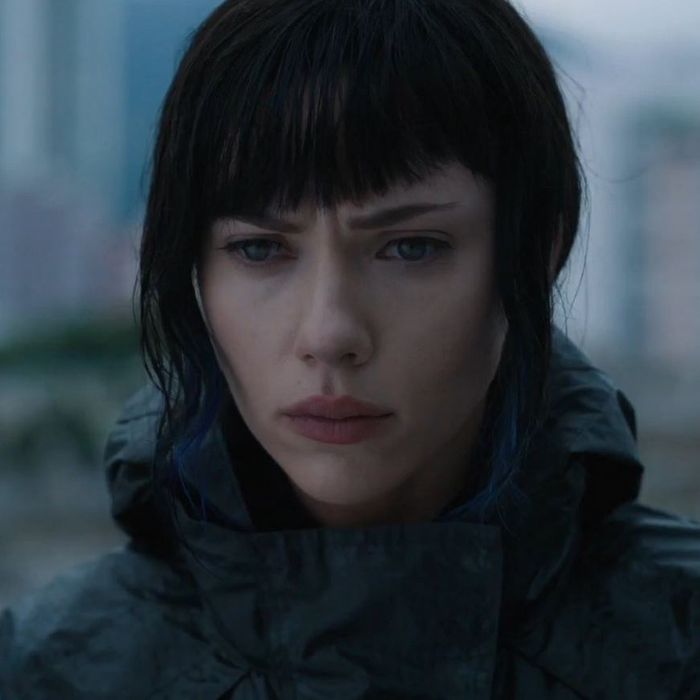 Scarlett Johansson in
Ghost in the Shell
.
Photo: Karen Brill/Paramount Pictures
Despite recent efforts to change the status quo, Hollywood remains overwhelmingly white and male. In fact, according to a new study from USC's Annenberg Inclusion Initiative, there has been no significant statistical improvement in the representation of women, people of color, LGBT characters, or characters with disability in film over the last decade.
The report, "Inequality in 1,100 Popular Films," draws from the top 100 movies each year from 2007–2017. It found that, although women make up roughly half the population, they represented just 31.8 percent of speaking characters last year. This is pretty consistent with statistics from the last decade; among the 48,757 speaking characters in the 1,100 top-grossing films since 2007, only 30.6 percent have been female.
One reason for this gender disparity is that women have a shorter onscreen "lifespan" than men: among child characters, there is more balance (52.7 percent male to 47.3 percent female in 2017), with the gap slightly widening in the teens (55.3 percent to 44.7 percent). But by age 40 and up, 75.4 percent of characters were male.
In terms of race, there remains a drastic contrast between the representation of minority characters and their white counterparts. In 2017, the study found that 70.7 percent of speaking characters were white, 12.1 percent were black, 6.2 percent were Hispanic, 4.8 percent were Asian, 3.9 percent were mixed-race, 1.7 percent were of Middle Eastern descent and less than 1 percent each were Native American or Native Hawaiian. Keep in mind that these numbers are associated with characters, not actors — in 2015, one of the 3.6 percent of mixed-race speaking characters was Aloha's Allison Ng, played by Emma Stone.
More than 99 percent of the speaking characters in 2017's films were straight and cisgender, and just one transgender character has been featured in one of the top 400 movies since 2014. Only 2.5 percent of speaking characters had a disability, and most were played by able-bodied actors, like Eddie Redmayne, who received the Best Actor award at the 2015 Oscars for his portrayal of Stephen Hawking in The Theory of Everything.
Hollywood's diversity problem can partly be attributed to the people behind the camera. Among the 1,223 directors who have helmed the 1,100 films in the study, 4.3 percent were women, 5.2 percent were black, and 3.1 percent were Asian. Only seven women of color directed a film in the past 11 years.
"Patty Jenkins did a great job with Wonder Woman, but she can't direct a hundred films a year," said Katherine Pieper, one of the study's co-authors. "And there are other groups that are missing." She proposes a seemingly simple fix: adding five female speaking characters to each year's top 100 movies would make 50–50 onscreen gender parity achievable by the year 2020. That, and inclusion riders.