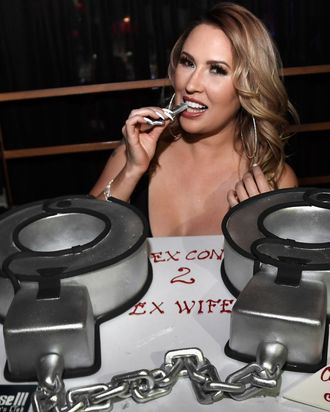 Melissa Meeks.
Photo: Bryan Steffy/WireImage
As the "Hot Felon," né Jeremy Meeks, and his Topshop Heiress girlfriend were celebrating the birth of their baby, the Felon's ex-wife was busy commemorating a slightly different milestone: her long-drawn-out divorce from Meeks.
It was nearly a year ago that the Felon's ex, Melissa, filed for divorce after seeing tabloid photos of him making out with his current Heiress girlfriend, Chloe Green. In an interview with the Daily Mail in July 2017, Melissa said, "I told him I didn't think the marriage could be saved," and revealed that Meeks agreed, unsurprisingly.
Now, to quote the banners at her Las Vegas divorce party, Melissa is "free at last." To celebrate this joyous occasion, Ex-Mrs. Hot Felon invited some of her closest friends to party with her at Crazy Horse III on the Strip this past Saturday night, where guests posed with a cake that read, "ex-con to ex-wife," and passed around various prison-themed party goods.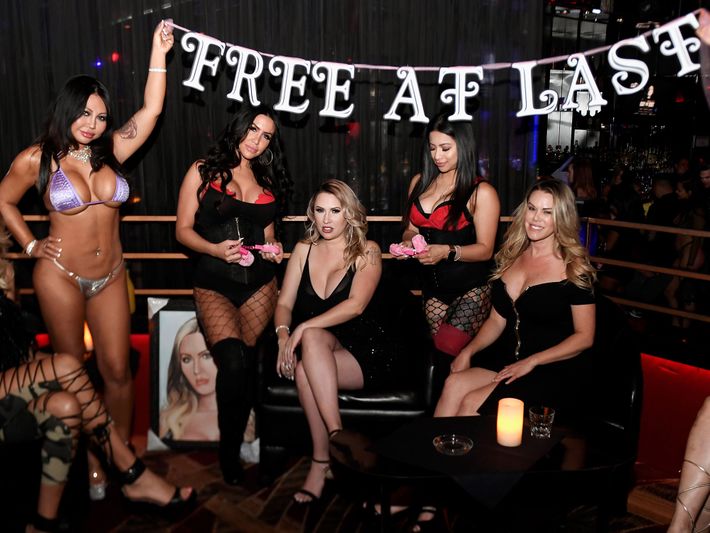 When Melissa first announced her divorce party in June, she was met with criticism — until she quickly shut it down. After being married for eight years to Meeks, with whom she has a child, she's ready to be on her own.
"I plan to enjoy life and experience life as a single woman," she told Hollywood Life. "I'm really looking forward to meeting new people and my journey ahead."
She continued: "I'm celebrating a new chapter in my life and moving forward as hard as the road has been to get here. I just want people to see me enjoying my self and know that I have moved on and have closure from my divorce."