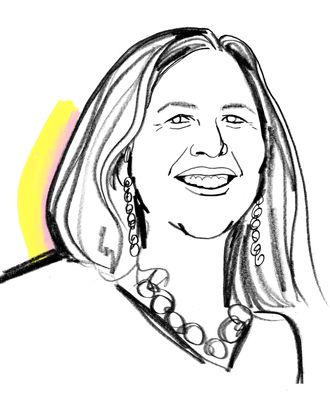 Illustration: Lauren Tamaki
Beth Shapiro runs Citymeals on Wheels, the country's largest nonprofit meals-on-wheels program for the homebound elderly. Each year, she is responsible for the delivery of two million meals within New York's five boroughs, not including emergencies. When Hurricane Sandy struck, Shapiro executed the delivery of 64,000 additional meals with the help of 800 volunteers. On any given day, she oversees the program's budgeting, fundraising, and recruitment of sponsors and donors. She has two adolescent children and lives in Westchester, New York, with her husband. Here's how she gets it all done.
On being an early riser:
I get up at 5/5:50 a.m., and I try to get some exercise in a couple times a week. The goal is to get on a train by 6:40 a.m. to be in the office early while it's quiet. I live in Westchester, so I take Metro North. I find it to be really good prep time to catch up on newspapers and social media. Citymeals on Wheels is city-focused, so while I'm looking at national and international news, my ride in is very focused on city news, what's going on here, whether it's news about elected officials or other city things that will impact seniors.
On arriving to the office first:
Our office is two blocks from Grand Central, so I'm usually in by 7:45 a.m. Ideally, I'm the first person here while it's quiet. It gives me time to go through emails that came in overnight and plan, not just for the day but for the future. It's my favorite time in the office when no one is here. It's peaceful and it's a very focused time for me. I eat two egg whites and a green tea for breakfast as I'm going through emails.
On a typical day at work:
There's usually three meetings — internal and external — with scheduled time that goes for planning elsewhere. People know Citymeals for delivering weekend meals, but we also do holiday and emergency meals, so when there's any kind of emergency in the city, whether it's weather-related or power outages, we are the city's first responder for seniors. If there's a power outage anywhere in the city, we are there to make sure food is getting to the people that need it. In the winter, snowstorm after snowstorm, in the summer heat waves, if there is any threat of a meal center not being able to deliver meals, it's really our shining moment — and when I think Citymeals is at its best — responding quickly and adeptly at getting food to the people that need it.
On the most rewarding aspect of her job:
For me, the best part is when we're out doing deliveries. It's hard not to feel engaged and fall in love with some of our meal recipients. I don't feel great every day at work; some days are hard. But I do feel good when I go home at the end the day, and say, I helped do something important for people who helped do a lot for this city. Many of them just want to say thank-you, but many of them are lonely and deal with isolation. Having someone come to the door that they can talk to for a couple of minutes changes their day. It has a deep impact on me.
On mid-day meditation:
It's a little bit newish in my life. If you come into my office you'll see an hourglass, because for me, even a short minute or two of slowing down and meditating shifts how I feel, and it just sets me up. I try in the morning, and there are times during the day that I just need two minutes to myself.
On events:
We have three or four core events with Citymeals and lots of smaller events. They're fun but they take an immense amount of work and planning. There are also dinners with boards, potential donors, and chef friends. I'm in a very fortunate situation to have several chefs on our board, and I like to recognize all that they're doing for Citymeals, so I like to frequent restaurants in the city.
On evenings:
I leave the office by 6 p.m. or so. I try not to answer too many emails on the train ride home, so I can start to unwind, but if I'm busy it's a great time to get stuff done. I always have great intentions of coming home and cooking, and I do a couple of nights a week. And then there are other nights I get home and my husband looks at me and goes, Sushi! [laughs].
If I don't have a work dinner or an event, I typically bring some form of work home with me, whether it's emails to finish up or signing letters, which may sound funny, but I take donor letters home and really try to personalize them. We have many longtime donors and it's nice to recognize all that they're doing for Citymeals with a note.
On what keeps her up at night:
The fastest growing population in the city is seniors. There are 2.4 million meal recipients across the country, but here in New York, there are 1.4 million seniors. By 2040 that number will grow by 40 percent. And we're seeing higher instances of poverty in the senior population here in New York, so what is that going to mean? What is our meal-recipient base going to grow to, and how are we going to meet that growing need?
On relaxing:
I bike ride, mostly on weekends, but sometimes I do it during the week on a trainer in my house. It takes a long time to ride a bike, 20 miles is an hour. So that is pure relaxation for me. I sing the whole time I ride.
I'll have to admit, TV time is also a complete release for me — to sit down and watch 30 minutes or an hour of something mindless. My husband and I have a regular date with The Voice. And I watch Shonda Rhimes shows. It's a little bit of guilty pleasure.
On sleep:
I aim to get in bed at 10 or 10:30 p.m. I try really hard. It's a new struggle for me to figure out when the phone goes off and when I go to sleep. I always say good night to both my kids via text before turning it off.