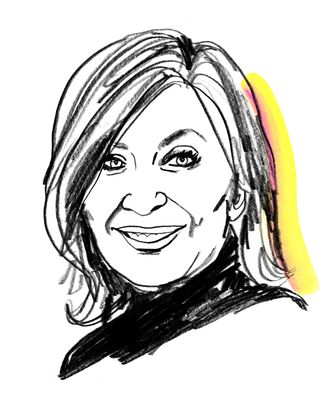 Deborah Lippmann.
Illustration: Lauren Tamaki
Celebrity manicurist Deborah Lippmann is happiest when she's busiest. The mastermind behind hundreds of best-selling lacquers, Lippman runs her eponymous nail-care business with the help of her brother, Mark Lippman, and her husband, Jude Severin. Most of the time, she can be found outside of the office, working behind-the-scenes on magazine shoots or runway shows or in front of the camera at HSN. She lives in New York City but spends much of her time at 35,000 feet (she racks up 150,000 miles a year). Here's how she gets it all done.
On a typical morning:
I usually wake up around 7 a.m. The very first thing I do is reach for my phone. I check my text messages first, I look to see if there's been any calls over night, and then I look through my email. That's before I get out of bed. If I remember, I try to do a short meditation, five to ten minutes depending on what my day looks like and what my stress level is. Then I brush my teeth, do my skin care, shower, and have coffee.
On commuting:
It's about ten minutes in a cab depending on traffic. I live on 54th and 10th and my office is on 30th between 7th and 8th. We intentionally put the office in that location because the majority of photo shoots are at Pier 59, 23rd Street and the West Side Highway, or Milk Studios down in Chelsea. This is a great in-between spot.
On multi-tasking:
I shoot four to five days a week. Sometimes those days are Saturday and Sunday, but one of the things about doing nails is that there is always downtime. And in my downtime I can get on my computer and Facetime [with my office] if I need to. If I'm working on colors and they are creating stuff in the office I can say, "Add some blue to this" or "Add some yellow to that."
Sometimes if I know it's a certain kind of photo shoot and we're working on a project, my team might be able to come over to the shoot and we can work on some things when I have downtime. Usually the photographers are pretty cool about that.
On long days:
When you're doing shoots, there's a start time that can be anywhere from 6 to 9 a.m. There is no official lunch break. Some photographers might want to take a half hour where we all sit down and eat together, but the majority just keep working. You eat as you're shooting, and many, many, many, many, many shoots finish at 10 or 11 at night. If it's a music artist, they show up six hours late and then you work all night long because they're nocturnal.
On the time Beyoncé called for a 1 a.m. manicure:
I remember when I was dating my husband, he was over at my house one night when, and my phone rang at 1 o'clock in the morning, and it was Beyoncé's people. She was in the studio and she had a two-hour break, and they were like, "Can you come to the studio now and give her a mani/pedi?" And my husband said, "What kind of manicures do you give at 1 o'clock in the morning?" [Laughs]
It's really about the time — musical artists work a lot at night, and if their break isn't long enough to take a nap and they haven't had their nails done, it's the perfect time for a manicure. Up until the last two or three years, I don't remember ever saying no to anyone — ever. I always figured out a way to make myself available.
On keeping her kits organized:
I have a Tumi suitcase which is basically a nail salon on wheels. You want to open up your kit and have it look pretty and clean all the time. I feel like I'm constantly trying to reorganize it.
It's full of every possible color. I carry everything with me: a gel lamp, gel products, empty bottles, brushes, and caps. I also carry my laptop, my iPad, my chargers are very important. I'm a charger freak. I have a lot of towels to work on people. I have stuff to sanitize my equipment in between clients. I have ten nippers and ten toenail clippers.
Sometimes I'll work on ten or 20 models in a day, so I have to have all my stuff to clean my equipment as I go. [I carry] a lot of polish remover because I go through that probably the most of anything. And I have extra base and top coats, extras of the colors I use the most frequently in case I accidentally drop or break one. Glass is heavy. The cab drivers always scream at me even though I warn them.
On her busiest time:
The first quarter of the year is awards season and [New York] Fashion Week. You've got the SAGS, the Globes, the Grammys, the Film Independent Spirits, the Santa Barbara [International Film Festival], and sometimes I need to go to all of them.
This year I was so excited that the Grammys were in New York, because usually in the middle of Fashion Week I'm flying to L.A.
and then taking a red eye home to do a fashion show. But one of my best clients had a movie premiere the day after the Grammys so I had to go to L.A. anyway. I would say the first three months are pretty crazy with travel and then I'll have a couple of visits of HSN in the middle of that.
On stress:
I'm always nervous around the awards shows. You're getting someone ready for the Oscars and every single detail is under a microscope, and you're the one that's been lucky enough to be asked to be in that room. There's a lot that goes into just choosing the nail color, even if we're just talking about a nude. And you're talking with hair and makeup and they are as nervous as you are. As glam squads, we really have to be a team when we're in the room, and we also have to be completely aware that our client is nervous, too. Our job is to make them feel like a million bucks and that they have nothing to worry about.
On HSN appearances:
I leave a suitcase in Tampa at the Vinoy Hotel with my makeup, skin care, and several sets of clothes to wear on air. Sometimes I get there and have five minutes to get ready before I have to go to the studio, so I'll get what I need out of that bag. They leave it in my room for me. They're wonderful. I've been going there once or twice a month for seven years so it's my home away from home.
When they talked me into doing [HSN] they said it would be four times a year, but now it's twice a month. Being on TV is extremely stressful because you have a certain number of minutes to get your point across, but you also want to make it entertaining.
Sometimes I do two days worth of shows, so I get zero sleep. You go back to your room and you're either hyper because you did well, or you're depressed and banging your head against the wall because you didn't do well. It's hard to get the right amount of sleep so you can get up and be fresh and remember everything that you need to say.
When I'm in my dressing room, I play whatever music I feel like I need. It might be really calming music when I'm in hair and makeup, and when it gets closer to showtime I might pump it up with a little Beyoncé or Bruno Mars. Once you get out there and you're under the lights, you have no choice but to rally, and I'm a good rallier. I really do have a lot of energy. I think I work better when I'm busier. I'm less productive when I don't have as much to do.
On working hard and having high expectations:
I have a really, really high expectation of others to work more than 9 a.m. to 6 p.m., but it doesn't happen in my office. I will literally look up at 6 p.m. and the entire place is gone. I think that comes from our team not being strong enough about saying, You work until your project is finished. But then I also have to realize that not everybody was born with my high energy level.
I don't look to be patted on the back for how hard I work, but I work a lot more hours and the traveling is difficult, and the packing and unpacking. The glamorous life of Deborah Lippmann? Not so much. I posted a picture recently of myself hunched underneath a table doing someone's nails, and that's a normal day. But it's great. I love what I do, and I love the people that I work with.
On weaknesses:
I'm great at some things and horrible at others. Don't put a spreadsheet in front of me and think that I'm going to be happy about it. It took me a long time to realize that it was okay not to know every single thing about every single thing. That doesn't make me a fraud, it just makes me a person who can be really strong at what I'm good at, and then hire people to do the rest. That was hard for me.
On relaxing:
I've been doing this for 25 years, and this is the first year I've started trying to take time off. I love exercising. I find that it obviously releases a lot of stress. It's good for my body. It's good for my mind. It clears out the cobwebs. Sometimes great ideas come to me when I'm exercising. I do SoulCycle and lifting weights, and now I'm learning to box. I hope I don't break a nail [Laughs].