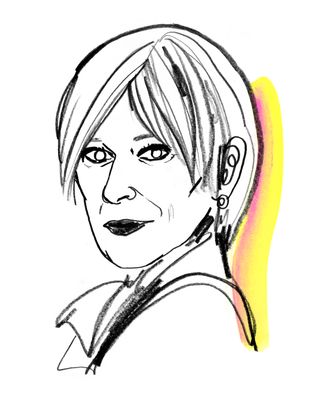 Joanna Coles.
Illustration: Lauren Tamaki
Joanna Coles doesn't like to be bored. As Hearst Magazines' first-ever chief content officer, a member of the boards of Snapchat and Women Entrepreneurs New York City, and an executive producer of The Bold Type — a television series inspired by her life — the media maven maintains a packed scheduled with little downtime. Coles is also the former editor-in-chief of Cosmopolitan and Marie Claire magazines. She has two sons and lives in New York City with her husband. Here's how she gets it all done. 
On a typical morning:
I get up as late as I can — but never later than 6:45 a.m. I get up, I get dressed, and I have my inhalation of media. I check my phone, I check Twitter, I read the New York Times and The Guardian, and the Post, and then I call people to find out what's going on. I'll call friends, I'll call colleagues, I have kind of a Joanna telegraph [laughs], you know, pick up what's trending, what are people interested in. I check what people are doing on social media, that kind of stuff. I walk the dog most mornings, so I do a lot of calls while I'm walking the dog.
On two coffees and no breakfast: 
I stopped bothering with breakfast about a year ago. I haven't found that it makes any difference, but I will have coffee. I have a Nespresso maker and I'm obsessed about the sort of dials on them and getting the right strength of coffee. And then I'll pick up another coffee on the way to work.

On commuting:
Sometimes I'll leave the house and be in the office at 8 a.m. to get stuff done quietly. And other times I won't come in until 10 a.m. because I might have a breakfast meeting. Sometimes I take the subway, and sometimes I get cab or I take an Uber. It largely depends on how many bags I'm going to have to lug to the office.
On her role as chief content officer at Hearst Magazine:
There is literally no one day that is the same as another. I understand the value of routine, but I also would find it stifling if I had to do the same thing every day.
I have an interesting smorgasbord of responsibilities: thinking about how we produce content internally at Hearst Magazine, thinking about new projects, supporting the editors, dealing with any issues that have just risen, talking to marketing people — both internally and externally — talking to advertisers, talking to potential partners about what we might do together in the content space. It's completely different from my role as editor-in-chief. It's really rethinking the way we produce content. Because we were producing content the same way we have been for 25 years and it needed to change. We created internal hubs, which allowed our top talent to work across several brands, not just one brand. The challenge is trying to stay on top of everything and trying to figure out what's relevant and what's not.
On communication:
My online communication is very short because I don't like the actual process of writing emails on a phone or an iPad. It's made me a very efficient communicator. If you send me an email longer than two or three lines, I won't read it. I love to pick up the phone and talk to people. It's faster and you can figure out what kind of a mood they are in.
On her treadmill desk and office space:
My computer is on my treadmill desk, so I walk a lot at the office. I'm on it all the time. If it had an odometer, which it doesn't, I'd certainly be in Ohio, if not Nevada by now. I can walk in heels, but if I'm going to be on it for longer than 20 minutes I'll change into flats. I do a lot of my phone calls on it too. I accumulate two to three miles a day. It undoubtedly gives you more energy. I get very fidgety if I have to sit down all day.
I'm very lucky in that the editor of Veranda, Clint Smith, decorated my office for me. It's got some rather splendid furniture that he rustled up — sofas and chairs and a splendid cupboard which is all mirrored. It's a very nice corporate office with lovely views of Central Park.
On being a board member for Snapchat and Women Entrepreneurs New York City [WE NYC]:
The Snap commitment is four or five meetings a year. I've developed several really good friendships through it, and I'm on Snap every day. I use it as a way to communicate with close friends. Often Hearst and Snap dovetail beautifully around marketing initiatives or meeting advertisers, and my worlds collide really efficiently.

[WE NYC] is a series of meetings over the year. It's really advising people or connecting people. What I'm actually quite good at doing is connecting people to ideas and people to people. It's focused on women in underserved communities who might not think of themselves as entrepreneurs. It's really, really rewarding and interesting.
On being an executive producer on The Bold Type:
The Bold Type involves reading scripts, and giving notes on scripts, talking to some of the cast, talking to the writer, and generally trying to be helpful if they need anything. If there is anything that doesn't quite make sense — because we want it to be relatable to young women's lives and we want it to have verisimilitude about the industry — I just sort of highlight anything like that. And then I give them endless story ideas based on what's going on.
On travel:
I travel a reasonable amount to the West Coast and I travel probably two or three times to Europe a year. I still have family there, or I go for work or I'm going for the shows. I travel relatively often.
I love being on a plane. I like the fact that you're uninterrupted, so you can sit and get five or six hours of solid work done. I like the discipline of that. I think the difficulty for everybody in the modern world is there are so many ways to have your concentration pierced, so it's nice to be uninterrupted.
On her book Love Rules: 
It was hard work. The trouble with writing a book is you're never quite done, so you can never fully relax in the same way as when you don't have a book to write. You just feel guilty if you're not working on it.

I had first thought of writing about how love and our relationships were being impacted by digital communication four years ago. By the time I came to write the book, I'd written a fairly specific outline and I was clear on what I wanted to investigate, and it took me about nine months to actually write it. I had a full-time researcher and we sort of divvied everybody up between us. And then I got up two mornings a week at 5 a.m. to write it and I worked every other weekend, and every plane journey on it.
On unwinding (or not): 
I'm not terribly interested in relaxing. What am I going to do, sit around? I have no interest in going to spas. I don't want to lie there listening to that terrible spa music. I really love to walk the dog around the city. Sometimes the dog just looks at me like, Oh God, what, again?
But I like being busy. I love the curiosity that you need for this particular job. I get to work with the most interesting people. You know the idea of Netflix-ing and chilling fills me with foreboding. I relax with friends having dinner and arguing. That's actually what I enjoy.
 
On brainstorming before bed:
I get in bed between midnight and 1 a.m. I'm not ready to let the day go by 10 p.m. Often I can kick in and get a new wave of energy at 10, and the truth is you can get a lot of work done between 10 and midnight and between 5 and 7 in the morning. What I try to do is carve out periods of solitude because that's where I get a lot of thinking done and you can have ideas hit you when you least expect it. It's hard to have an idea hit you if you're constantly online.
On sleep:
It takes me 11 seconds to go to sleep. It takes me slightly longer to wake up, but I never have issues going to sleep. Sometimes I'll wake up in the middle of the night if I'm ruminating on something and I'll take note, then I'll go straight back to sleep. But I've had some very good ideas at 3:30 in the morning so I don't mind waking up then. I've found it's part of the process.