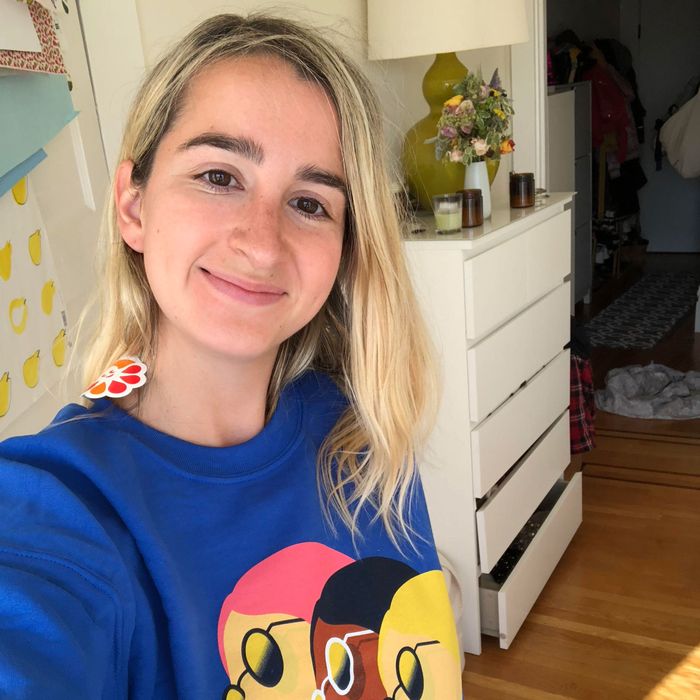 Do you ever see someone on Instagram and think, Why is your skin so good? We do, so we started asking. Welcome to Why Is Your Skin So Good. Want more skin care? Join our Facebook Group, the Beauty of It All.
You could call Lucy Litman an expert on the subject of color. The San Francisco–based social-media strategist and artist might be best known for #PantonePosts, her oddly satisfying series of Instagram photos matching everyday objects to Pantone shades. (An unripe strawberry, for example, is Pantone 12-0524; fully ripe, it's 199.)
On the topic of beauty, though, Litman says she's not quite expert level yet. "I'm a skin-care newbie, having gotten my first face wash only a year ago," Litman says. "I had the delusional idea that my skin would somehow always be fine and never age, despite never wearing sunscreen or washing my face, but as I got into my late 20s, I saw how wrong I was."
Litman is allergic to sodium lauryl sulfate (the chemical in most face washes that makes things foam), so she's spent the past year doing a lot of trial and error. Clean beauty, she's found, works best for her, as does drinking a lot of water — she downs four liters a day. Read on for her full routine, which includes a seaweed-derived serum to protect her skin and CBD butter to protect her general sense of well-being.
"This was introduced to me by a random person on the internet who bought one of my prints, and she sent me these products! This is actually the first product that got me into a routine. A lot of washes dry out my skin and make it flaky, but this is actually an oil that you rinse off with warm water. It leaves me feeling clean and not dry."
"I have no idea if this is supposed to be a moisturizer, but it works as one for my skin. It has gold flakes in it, which I try to grab like one of those arcade games with the claw and the prize. I rub it all over. Most days, if I'm in a rush, I end my skin-care routine here."
"This serum adds some added moisture, so I find I use it more in the winter. It's all-natural, made with a lot of seaweed products by a family-owned company. The serum adds extra protection — San Francisco is really windy, so my face gets beat up a lot from the wind."
"The most important part of skin care, as everyone tells you, is sunscreen. I hated sunscreen growing up because I hated the sticky, oily feeling. Tatcha to the rescue! This makes my skin appear more matte after all the oil I apply. I have a mini one I carry throughout the day, too."
"Some days, depending on the weather, I use the vitamin boost. I'm outside a lot, I run around a lot, so this is a nice spray and brightens my skin up."
"Every once in a while, I use this superpowerful exfoliant. I put it on twice a week and wash away all my dead skin. It prevents flakiness."
"I've gotten very into this CBD trend, so if I feel myself getting stressed, I'll throw some of this into my smoothie or onto my toast and it calms me."
If you buy something through our links, New York may earn an affiliate commission.