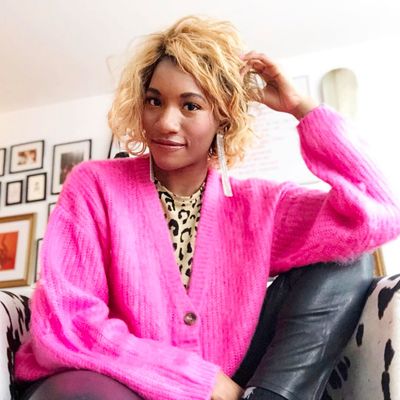 Photo: danielleprescod/Instagram
Want more skin care? Join our Facebook Group, the Beauty Group.
BET.com style director Danielle Prescod spends a lot of time in front of the camera. When she's not being photographed at fashion parties and events about town, she's in her own Instagram stories talking about everything from bad dates to heavenly vacations. This week, the fashion industry veteran — she's also worked at Elle, InStyle, and Moda Operandi — walks us through her skin-care routine.
Prescod was on vacation for this interview, and she has a no-nonsense approach to packing beauty products: "I took just the essentials," she explained. "But you can get an idea of what my day-to-day routine is like with these."
"This is the first thing I use in the morning, and the only cleanser I've used for the past two or three years now. She makes a product line specifically for darker skin tones. The consistency is foam, and it's really light and cleanses so well."
"This is the second step in my routine. It's pretty new to me but I really love it! I use a toner pad or a cotton pad. It's brightening, I like the consistency, and a facialist told me a few years ago told me I was crazy for not using a toner … so I use a toner now!"
"This is from my favorite Korean beauty supply store. It's really smooth and I actually have no idea what it does, but I like the way it makes my skin feel."
"This is my favorite sunscreen! I put this all over my face and neck. I really like it because it goes on clear, and there's no white cast which is a problem for me with sunscreen and a darker skin tone."
"I put this all over my face. It's like a primer, and it preps your skin for makeup, and then I start my routine!"
If you buy something through our links, New York may earn an affiliate commission.