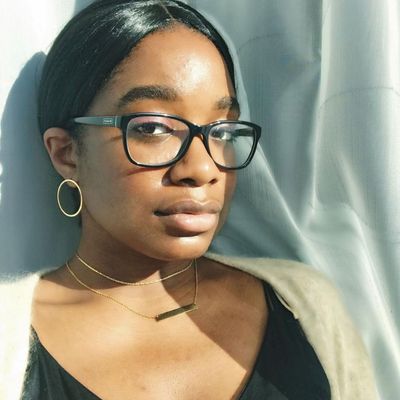 Do you ever see someone on Instagram and think, Why is your skin so good? We do, so we started asking. Welcome to Why Is Your Skin So Good. Want more skin care? Join our Facebook Group, the Beauty of It All.
Sabrina Bazile is a writer, urban planner, and self-taught graphic designer based in Brooklyn who currently works for New York City's Department of Housing Preservation & Development. In addition to those interests, she cares a lot about skin care. "I have been interested in skin care since I was 12 because I had acne. My acne didn't clear until I was 23, so for 11 years I was depressed over my skin."
Now, she's a skin-care junkie and a devout YouTube beauty video watcher. She especially loves ten-step Korean skin-care routines. "It's most likely an excuse for me to spend money on products, but I love having hydrated, oily, and dewy skin. I think it's a sign of health."
"I just switched from Glossier's Milky Jelly Cleanser to Tatcha's Deep Cleanse cleanser because I got the Tatcha as a sample and fell in love with how smooth it makes my skin feel."
"I use this about two to three times a week as a mask, but if my skin feels rough or dull, I'll use it as an exfoliator after cleansing. I love Dr. Roebuck's products because of their clean, minimal ingredients."
"I got this on a whim because I was looking for a toner. Also, the packaging was too cute to pass. It makes my skin feel soft."
"I was always interested in trying Kora Organics products, so I also got this on a whim. I've genuinely noticed an improvement to the fine lines under my eyes and brightness. It also has a nice cooling effect under my eyes."
"I heard from a friend that I should be using retinol to help keep pimples at bay and help with hyperpigmentation. I've been using this serum for two years and it has erased all my dark spots and discoloration."
"I've always used face oils to further hydrate my skin, and the Noni Glow Face Oil is a nice moisturizer and brightens my skin."
"This is the thickest moisturizer I've found and it's incredibly hydrating. I use this in the winter when my skin gets dry. I also love how it has minimal ingredients."
"I just started using this because it's humid as hell in New York in the summer and I needed a moisturizer that is lightweight but still hydrating. This gives me the burst of hydration my skin needs but still satisfies my desire to be dewy, not oily."
"This is a must in the summer. I carry it with me and spritz while in the subway to freshen up. I also use it at night after moisturizing because the loft area in my apartment gets humid so I use it to cool myself down."
"Balm Dot Com was how I was first introduced to Glossier and I like how versatile it is. I don't just use it on my lips — I'll put a little on my hands and cuticles too."
If you buy something through our links, New York may earn an affiliate commission.