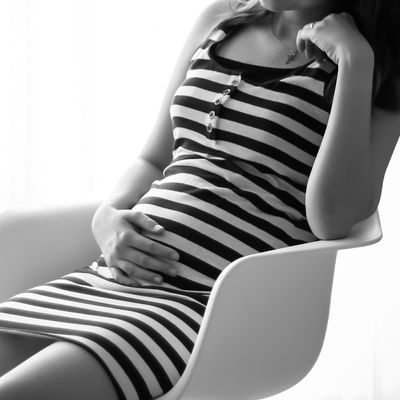 Photo: Suphat Bhandharangsri/Getty Images
In most traditional jobs, maternity leave comes down to negotiation, research, and putting your foot down: What's your employer's policy, and how can you cobble it together with disability, vacation days, and whatever else HR can sprinkle on top? The system may be flawed — even terribly so — but at least one (hopefully) exists. However, if you're part of the growing workforce of full-time freelancers, you face uncharted territory. How many weeks can you afford to forgo income? How do you broach the topic with your clients? Then there's the lack of job protection: Independent workers aren't covered by the Family and Medical Leave Act (FMLA), so there's a real chance that you may not have much work to come back to.
Still, it's a risk that more and more women are willing to take. As of 2017, full-time freelancers make up 29 percent of the American workforce (a big jump from 17 percent in 2014), and most of them are happy about it: 63 percent are freelance by choice rather than necessity (i.e., they could find a corporate job if they wanted, but prefer to be their own boss). "Young women are a major part of the growing group of full-time freelancers," says Caitlin Pearce, the executive director of the Freelancers Union. "However, maternity leave is an area where the gaps are glaring, in terms of resources for them, and there's no great way to handle it." In general, she recommends that moms-to-be stash away three to six months' worth of income, as a general safety net, but she recognizes that this isn't always realistic. Freelancers often have to find creative solutions to making ends meet while on leave.
When Kerith Lemon, a commercial director who owns her own production company, got pregnant at an inopportune moment (her husband had just left his corporate job to start his own company), they had to get creative with their cash flow. "My first thought was, 'What did we just do? How are we going to pay for this baby?'" she says. To stockpile money, she doubled down on work projects during her pregnancy, even agreeing to take one that started five weeks after she was due. "I thought about saying no, but that little freelance voice in my brain was like, You can't turn this down — plus, it was an interesting opportunity," she says. "I was in meetings about five weeks after giving birth, which was hairy. But then I gave myself another month of maternity leave after the project wrapped, almost like a reward — and also because that paycheck helped me afford it."
Like many freelancers, Lemon and her husband also struggled with the cost of health care. Before the pregnancy, they'd signed up for a cheap insurance plan that left them with high out-of-pocket fees, and the medical bills for tests and doctors appointments began to add up. Again, they used their flexibility to find a solution: They moved from L.A. to D.C., which qualified as a "life event" and triggered a special enrollment period, allowing them to buy new and better insurance. "We definitely had to think outside the box," Lemon says. "I know moving sounds crazy, but because we have the freedom to work from pretty much anywhere, we realized that it was the best option, financially."
Paychecks and health care aside, what if your business simply isn't structured for you to step away? You might want to hire your own freelance help, suggests Jessie Cohen, who runs her own L.A.-based publicity firm and brought in another freelance publicist to oversee her ongoing client projects when she gave birth to her daughter last winter (she also has one full-time employee who stepped up and took on more responsibility). To afford the extra staff, Cohen set aside bits of every paycheck in a savings account for a full year before she even got pregnant, with a goal of having four months' worth of her income socked away. "It was stressful that it took awhile, but building that nest egg gave me a real sense of calm and security, because it allowed me to proceed on my own terms," she says. "As soon as I started thinking about having a family, I knew that I would have to design my own maternity leave, and I chose to see that as a positive thing. I could make it whatever I wanted instead of being forced to follow a rigid structure or fighting with some guy behind a desk."
In the weeks leading up to her due date, Cohen made a detailed handover plan and told clients when she'd be out of commission and who was minding the shop. Her team took over on the day she went into labor, and she didn't check email until about four weeks postpartum. "At first, I was just monitoring my inbox, making sure things were running smoothly and having my team execute everything," she says. "Then, I started getting involved in a couple of projects that I was excited about." It's hard for her to say when she went fully 'back' to work; she continues to delegate more than she used to, but that may be the new normal. "I'm still very reliant on my team, but learning to not micromanage has also helped me focus on big-picture strategies," she says. She has also been up-front about her own limitations — with good results: "I recently went to a meeting with a potential new client, and I was like, Maybe I'm not ready for this. And then I told myself, You're a boss. Just go. I was very honest about what I thought we could contribute, and they were open to it. So we're starting to work with them in the coming weeks."
Freelancers — like any parents — also have to prepare for the unexpected. Frances Denny, a Brooklyn-based photographer and co-founder of creative agency Dafne, planned to be back in the studio full-time three months postpartum, but an unexpectedly tough delivery left her bedridden for six weeks and barely able to walk for six more. "I was getting emails from photo editors being like, 'Are you back yet?' And I hadn't even gotten medical clearance to work," she says. Fortunately, she and her husband saved enough that she could return gradually; now seven months postpartum, she works three full days a week, and hopes to be full-time again by the fall. "I took my first job three months after giving birth, just to get back in the saddle," she says. "It's been touch-and-go, because photography is so physical, but it gets better every time." In light of her experience, she recommends that any freelancer try save up at least four months' worth of income before giving birth, if possible. "I never thought it would take me so long, or be so gradual, but especially considering the birth injury, I'm grateful that I was able to do it this way," she says.
Both Denny and Lemon considered buying private short-term disability insurance, the white whale of maternity benefits for the self-employed, but ultimately decided not to bother. Designed to cover part of your "lost wages" when you are medically unable to work, some disability policies will pay up to 70 percent of your typical income while you're on leave, but only if you plan well in advance and have a strong stomach for mountains of paperwork. And if you're already pregnant, forget about it: Disability insurers consider pregnancy a "preexisting condition," so no part of your maternity-related leave will be covered if you buy it after you conceive. However, if you're currently self-employed and considering motherhood sometime in the next few years, it could be worth looking into your policy options, which differ state by state and usually cost between 1 and 3 percent of your annual income. In most cases, you need to purchase the policy a full year before you get pregnant to be eligible for any type of maternity coverage.
As for when to tell clients you're pregnant: Everyone I spoke to waited until the last possible minute — or didn't say anything at all. "Unfortunately, we hear a lot of stories from pregnant freelancers about clients being reticent to hire them or expressing concerns about their availability," says Pearce. "The ideal situation is that you can be up front with your clients and discuss your maternity plans with them, but not every freelancer is in that boat." Instead, many women wind up feeling like they have something to prove. "I showed up to photo shoots at 37 weeks," says Denny. "I knew that I was fully competent, but I was worried that if I said anything beforehand, people would worry or hire someone else. I thought it was better to just do my job and let that stand for itself." Cohen took the same approach, showing up at the Venice Film Festival — where she had a full slate of clients — with a visibly large belly. "It was awesome, actually," she says. "Everyone reacted positively, and it confirmed this idea, which I'm still exploring as a mother, that there's no need to apologize or explain anything about having a kid. I felt so confident, and my team did a better job than ever."