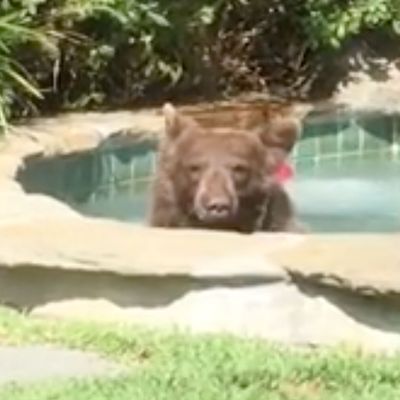 Hot-tub bear! Hot-tub bear!
Photo: Courtesy of Mark Hough
It seems fitting that, right before July Fourth, we've been blessed with our new summer icon: this bear drinking a margarita after chilling in a hot tub.
Even if watching videos of bears in pools wasn't my personal ASMR (may I suggest this one to get you started), there is much to love about this particular video. Mostly that it's a freaking bear drinking a margarita after soaking in a hot tub. Nature is beautiful!
California homeowner Mark Hough told the Associated Press that he was enjoying a margarita in his backyard on Friday when he heard and spotted a bear approaching. He went inside — leaving his drink behind — and observed the scene:
Hough recorded video of the bear lolling in the unheated hot tub with the jets on. The bear played with the chlorinator and tossed the thermometer in the air, Hough said.
The bear then got out, took a tour of the yard, then "walked right over to the margarita, knocked it over and lapped it."
"He was playing, having a grand old time," went Hough's official assessment of the situation.
Anyways, congrats to the dad bear from Goldilocks and the Three Bears for fully embracing the Parrothead lifestyle.