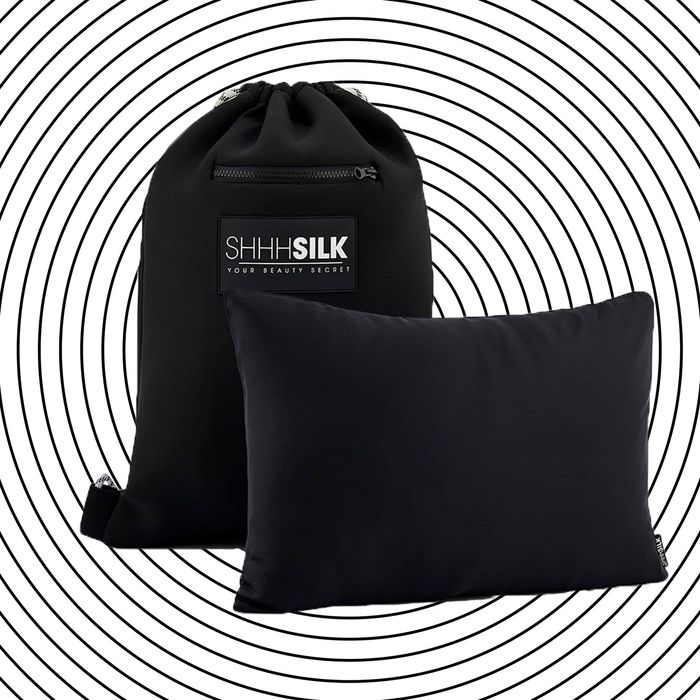 Don't judge me, but sometimes I Google the phrase "celebrities carrying pillows." There's something endearing about watching bleary-eyed adults like Leonardo DiCaprio and Katy Perry clutching giant, fluffy pillows. (You'll also find a particularly annoying shot of Gisele going through an airport with fresh-looking skin and shiny beach waves, effortlessly holding a baby in one arm and a pillow in the other). It's a good reminder that sleeping on an airplane sucks for all of us, even celebrities flying in private planes.
There are plenty of stories about what beauty products you should pack for a plane. I'm here to endorse traveling with your own miniature silk pillow or pillowcase, celebrity-style. If you've read any beauty article in the past year, you've likely heard famous people like Cindy Crawford proclaiming that silk pillowcases are great for your hair and skin. It's true — your hair tangles less when it rests on a swath of silk for eight hours, meaning less frizz when you wake up. Silk is particularly a godsend if your hair is fragile or textured because it creates less friction. And I haven't woken up with a face crease once since I switched over.
It only makes sense that these benefits would apply on a plane, especially if you spend a fair amount of time traveling. You don't need to bring a full-size silk pillow: Shhh Silk makes a nice one that fits easily into a tote bag, where the case is sewn around the pillow. Or you could just buy the pillowcase alone on Amazon.
If you're one of those people who likes flipping your pillow over to the cool side, bonus: Every side of a silk pillowcase is the cool side because silk is preternaturally cool. I can also report that silk absorbs drool just like regular pillows.
If you buy something through our links, New York may earn an affiliate commission.