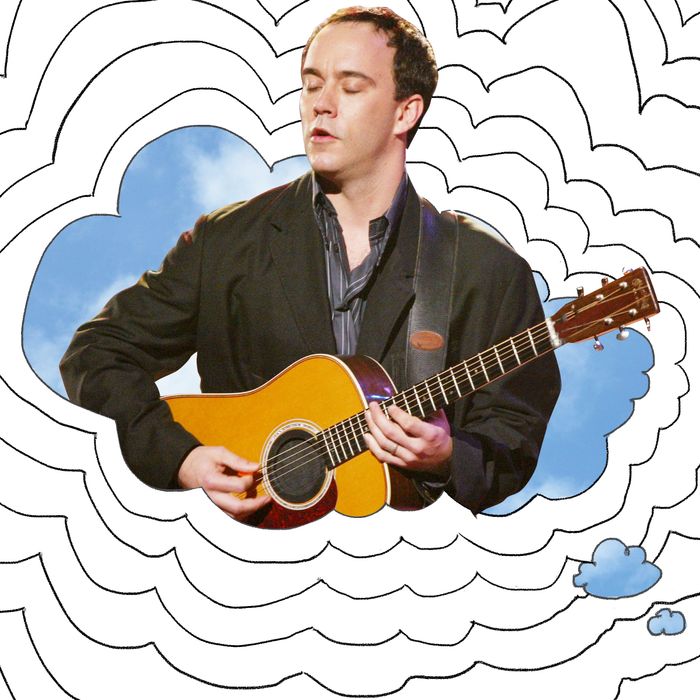 I Think About This a Lot is a series dedicated to private memes: images, videos, and other random trivia we are doomed to play forever on loop in our minds.
The morning of August 8, 2004 dawned cool and crisp in Chicago. It was the perfect day to take in the city's sights without being overwhelmed by its usual summertime heat and humidity. Tourists lined up for the Ferris Wheel at Navy Pier, went shopping up and down the Magnificent Mile, boarded double-decker buses that would whisk them down Lake Shore Drive. And 120 sightseers embarked on the Chicago Architecture Foundation River Cruise — a boat trip down the Chicago River showcasing some of the city's prized architectural gems — not knowing they were bound to be forever tied to one of music's darkest days. (Or at least, one of its smelliest.) As they reached the Kinzie Street Bridge, a grated drawbridge on the north fork of the river, one of Dave Matthews Band's tour bus drivers emptied 800 pounds of human waste directly overhead.
"Poopgate," as the incident quickly came to be known, remains a smirch on Chicago's otherwise storied music history. One hundred tourists aboard the boat were drenched by the unsavory mixture, ruining their clothes and causing several of them to get sick.
As a teenager growing up in the suburbs of Chicago, Dave Matthews imprinted uniqueness and agony to an otherwise anodyne existence, which lent him both a kind of authority and familiarity. Going to DMB concerts was simply "going to see Dave," often in someone's older brother's Jeep, sharing a few pre-show swigs of Natty Ice or — if you were especially daring and connected — a joint. Dave Matthews' music made me and my peers feel understood in our heartache and existential angst, as he lent an air of seriousness to the uniquely white, upper-middle-class problems we all faced. Never mind the fact that he was twice our age — all it took were the first few notes of "The Space Between" to make us feel like our brief fling with the quiet Swedish student from study hall was, indeed, destined to make us "strange allies with warring hearts."
I was out of high school when Poopgate happened, about to enter my second year of college in California. When I heard about it, I did not stop laughing for days. I told everyone I knew: "Did you hear about Dave Matthews' bus? How it dumped POOP on a bunch of TOURISTS?" I couldn't put my finger on why this was so riotous to me; it just was.
All these years later, and with the help of Ladybird — a movie that featured "Crash Into Me" so prominently that dozens of articles were written about its meaning — I think I know. Dave Matthews Band is one of the most self-serious music groups ever to exist. Their entire reputation was built off of being able to convince their teen and 20-something fans that their particular problems were the most consuming to have ever existed. Heartbreak was poetry, and their poetry was nonsense. Take, for instance, the opening lyrics to "Tripping Billies:"
We were above

You were standing underneath us

We were not yet lovers

Dragons were smoked

Bumblebees were stinging us

I was soon to be crazy
What on Earth does that mean? What dragons were smoked, and how? Why were bumblebees stinging you? And how does this relate to the song's chorus, which enjoins readers to "eat, drink, and be merry/for tomorrow we'll die"? For Matthews, whose songs all seem to be (very) thinly veiled references to doing drugs with his friends, maintaining an air of gravitas was key to his image. He wasn't a joker or prankster, he was the guy you would smoke a cigarette with while talking about death. Which is what makes it all the funnier that it was his bus that dumped 800 pounds of human waste on the patrons of the arts touring Chicago's architectural scene by boat that cool summer day. Poop is juvenile, unserious, disgusting, base, and hilarious. The Dave Matthews Band, in its own estimation and mine — until a certain point, at least — was none of those things.
Then, the passage of time worked its magic on me and I began to understand that there were greater artists than Dave and the crew; bands whose music struck at emotional truths even more honestly than they did. So perhaps what changed wasn't so much the music of Dave Matthews, but my understanding of life. Growing up alters things, including musical tastes, and it's easy to act embarrassed by what we used to like — but I can admit that, for a time, Dave Matthews Band was particularly meaningful for me. I don't find that to be the case now, but the nostalgia of it all makes the incongruity of the event even funnier, and makes me feel more possessive of it. I don't live in Chicago any longer, but somehow events like this one still belong to me, in the same way that I'll always feel transported whenever I hear the first bars of "Crash Into Me" even if I wouldn't choose to listen to it on purpose.
As for the Poopgate consequences, the band's bus driver, Stefan Wohl, initially denied that he had intentionally discharged the poop from the bus. It wasn't until seven months later that he entered a guilty plea and ended up serving 18 months of probation, doing 150 hours of community service, and paying a $10,000 fine. (The band also gave $50,000 to the Chicago Park District and to the Friends of the Chicago River. "We simply want to begin the healing process," they said in a statement.)
The incident does, however, help make sense of the Tripping Billies lyrics I could never quite understand. "We were above / You were standing underneath us." Now we all get it — just don't look up.