I Think About This a Lot is a series dedicated to private memes: images, videos, and other random trivia we are doomed to play forever on loop in our minds. In honor of Totally Soaked, the Cut's week dedicated to summer horniness, we asked 11 writers to share the horny pop-culture moments — or pop-culture moments that make them horny — that they think about … a lot.
The ice bath scene from Stick It.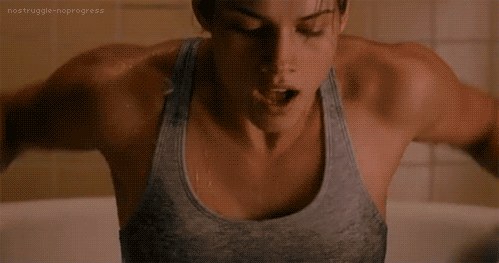 Stick It — the Bring It On for gymnastics — came out in 2006, when I was a freshman in college in rural Illinois. I went to see the movie with my best friend and, while we both loved it, we also recognized that it is very bad. I haven't seen it since, and I doubt it has aged well, but it doesn't matter. What this movie did for me has nothing to do with the plot, and everything to do with the scene in which the protagonist, Haley — played by a tomboyish, Avril Lavigne–channeling Missy Peregrym — takes an ice bath in her sports bra. It's brief, but it's one of the most erotic scenes I've ever witnessed. She has 800 abs, and they hurt, and she needs someone to take care of her. Why not me? This is the moment I now consider my "root" — in But I'm a Cheerleader lingo, that's the moment that "made me" gay. Somehow I didn't come out for nine more years and it took me ages to figure it out. But I like to think that that ice bath — and its second life as a very gay gif — helped me get there.
—Katie Heaney
James Marsden saying "get over here" in 27 Dresses.
Let me tell you about the last ten minutes of 27 Dresses — one of the last good rom-coms before the great rom-com drought. Katherine Heigl plays an executive assistant in love with her boss, but her boss falls in love with her sister, and she's stuck planning the wedding. Ouchie. Instead, she ends up with James Marsden — a jerky but sexy wedding columnist who was right there under her nose all along. Now, James Marsden is a totally serviceable romantic lead: floppy hair, beautiful eyes, sarcastic but compassionate when he needs to be. But what puts him into the rare category of Jesus Christ, please rip my panties off with your teeth is his reaction to Heigl's big "I'm sorry, I love you, please be with me" speech.
Other male leads, they'd let their eyes go soft with love and understanding. They might utter three non-arousing words like: "I see you" or "You complete me" or "I love you" or "You're the one." But not Marsden. His eyes, they turn into little eye-fuck machines and he growls the horniest words from any rom-com (besides "I got you pizza"): "Get over here." It is an inferno in my loins. Just look at the face a rando in the crowd makes when he says these words. This guy knows what's up and so do we: Unlike all those other rom-com platitudes lesser dudes spout that promise some flimsy fairy tale ever after, the happy ending Marsden's "get over here" offers is just a fantastic post–declaration of love session in the sack. And by the way he says it, you know it's gonna be a good one.
—Allison P. Davis
Meadow pulling out a condom on The Sopranos.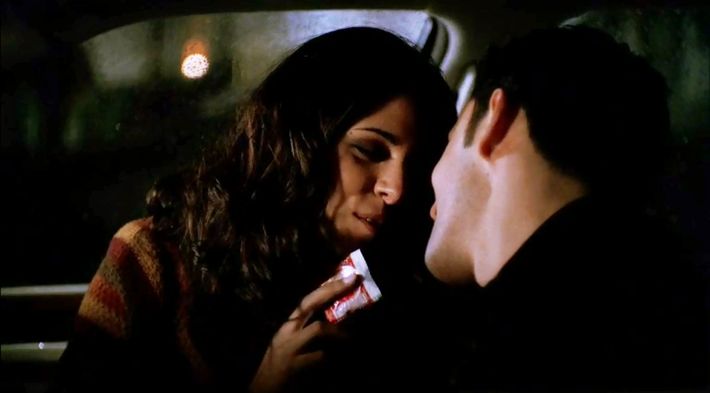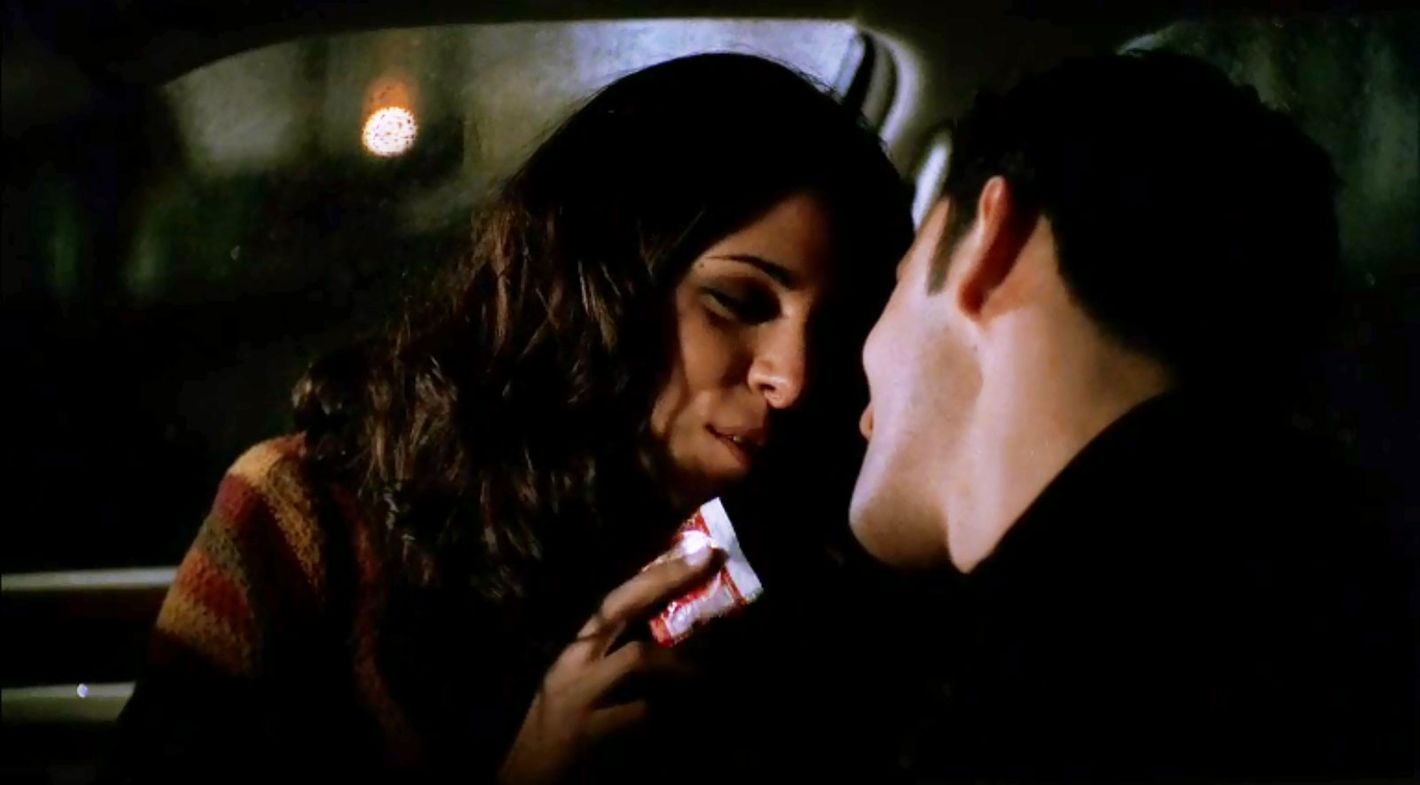 During season three of The Sopranos, Meadow — Tony Soprano's daughter — writes a paper about Edgar Allan Poe for her boyfriend, a mobster's son named Jackie Jr. who is failing out of Rutgers and looks like a Sicilian Justin Timberlake. Jackie asks Meadow how he'll ever be able to repay her for this favor and she pulls out a condom (from where??? she's wearing a poncho!). The first time I watched this scene, I was five years younger than Meadow and also sitting next to my dad on the couch. I wondered: Was this what it was like to be horny? Specifically: Is this how you were supposed to show boys that you felt horny and wanted to have sex with them? Was this what a future desire to have sex would eventually lead me to? Doing a boy's homework for him and then taking responsibility for our mutual reproductive safety and also having to make the fact that I wanted to protect myself from the consequences of sex … sexy? I think the confusing mix of performative teen horniness and — more importantly — academic dishonesty on display in this scene is why I went to a women's college and didn't have a boyfriend until I was 25.
– Angela Serratore
Prince Charles's tampon-related phone sex with Camilla Parker Bowles.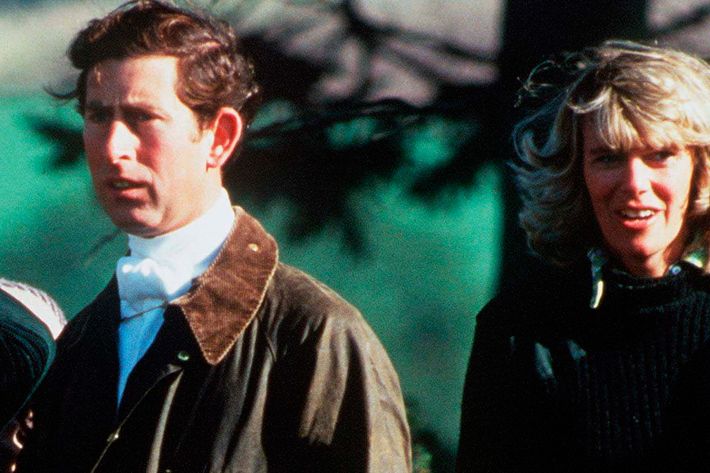 In 1993, a British tabloid published something truly shocking in its unmitigated horniness: a transcript of a secretly recorded phone conversation, taken four years prior, between Prince Charles and Camilla Parker Bowles. Charles was married to Princess Diana at the time, and Camilla was married to some guy I absolutely do not care about, but that did not stop the two of them from having oddly polite phone sex, in which they employed some of the most thought-provoking figurative language in all of recorded human history.
I will let the transcript speak for itself:
Charles: Oh. God. I'll just live inside your trousers or something. It would be much easier!




Camilla: [Laughing.] What are you going to turn into, a pair of knickers?




[Both laugh.]




Camilla: Oh, you're going to come back as a pair of knickers.




Charles: Or, God forbid a Tampax. Just my luck! [Laughs.]




Camilla: You are a complete idiot. [Laughs.] Oh, what a wonderful idea.




Charles: My luck to be chucked down the lavatory and go on and on forever swirling round on the top, never going down.




Camilla: [Laughing.] Oh, Darling!




Charles: Until the next one comes through.




Camilla: Oh, perhaps you could come back as a box.




Charles: What sort of box?




Camilla: A box of Tampax, so you could just keep going.




Charles: That's true.




Camilla: Repeating yourself …
They could teach college classes on this erotic tampon discourse. It poignantly and viscerally distills the paradoxical nature of desire: Seized by longing, one yearns to become close to their beloved, to the extent that the two merge into one being. It's not enough to be a mere pair of "knickers," which sit uselessly between the trousers and the skin; in abandoning oneself to desire, one must be a tampon, enveloped wholly by their beloved. But this kind of intense wanting is also an act of self-abnegation, a terrifying rejection of self. To become your lover's tampon, metaphorically speaking, is to risk being chucked down the lavatory, forever swirling 'round the top of a lifetime of unfulfilled romantic fantasies, never going down.
It's a tragic paradox: wanting to lose oneself in the other while fearing the inevitable plunge into the toilet of disillusionment. And unfortunately, it is impossible to be both a box of Tampax but also an individual tampon, and "just keep going," getting chucked and then emerging again, blissfully ready for the next day's humiliation. I'm sorry, Camilla, but that metaphor makes absolutely no sense.
– Callie Beusman
The library scene in Atonement.
This extremely climactic (heh) scene in Atonement is the result of a classic mix-up: the housekeeper's son, Robbie Turner (James McAvoy), has sent his crush, Cecilia Tallis (Keira Knightley), a very "anatomical" letter about kissing her lady parts. Unfortunately, this R-rated version was never supposed to make to Cecilia. To make matters worse, it was delivered by Cecilia's nosy and prudish younger sister, Briony (Saoirse Ronan), who is scandalized by it for the rest of her life. Anyway, Robbie comes over to clear things up and finds Cecilia in the library wearing a slinky, silk emerald dress with a low back. (I also think about this dress a lot.) She admits to crushing on him, too, and they start making out against a bookshelf. Cecilia puts one leg on a ladder next to her to lift herself up as Robbie pins her to the wall. We see Cecila's other foot levitate out of her shoe. She makes a face, like she's been stabbed by the D. They say that they love each other and hold hands in a Saturday Night Fever pose, making an X with their bodies. And then friggin' Briony walks in! It's one of the most devastating cock blocks in cinema history, and not just because Briony interrupts Olympic-level sexual acrobatics. Spoiler: Everyone in this movie dies because of their horniness. Except for Briony, who is perhaps the horniest of them all. To this day, I'm still mad at her.
– Emilia Petrarca
The movie Bandits.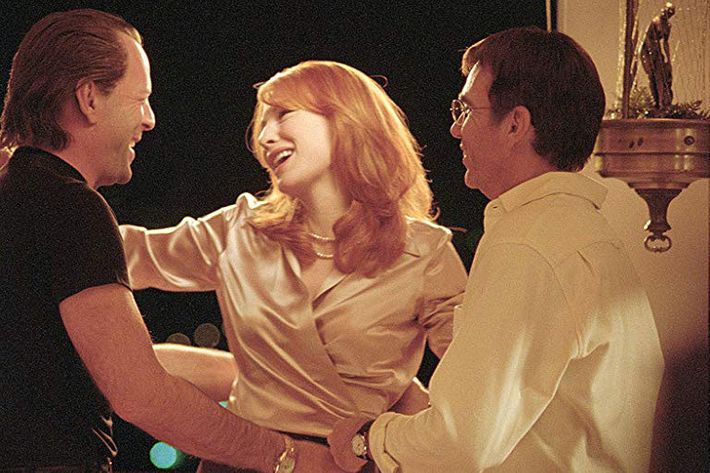 A horny thing I think about a lot is the 2001 film Bandits, starring Cate Blanchett, Bruce Willis, and Billy Bob Thornton as bank robbers. So much about it is so horny (Cate Blanchett as a ginger, Cate Blanchett robbing, the audience knowing that Billy Bob was maybe wearing a vial of Angelina Jolie's blood under his clothes) but the horniest part of all is the ending. If you haven't seen it yet, that's on you, because you've had 17 years. Cate spends the whole movie making out with both Bruce and Billy Bob, and you're not sure who she's gonna end up with, but the last scene is the three of them on the beach in Mexico, rich off their robbery earnings — and Cate makes out with both of them! We're to believe she lives happily ever after with both guys. As a young woman blossoming into her sexuality, this movie made me realize that women really can have it all (two boyfriends) as long as you're willing to live on the edges on the law, and do it with a guy who wears a vial of blood around his neck.
- Madeleine Aggeler
Harrison Ford changing his shirt in Working Girl.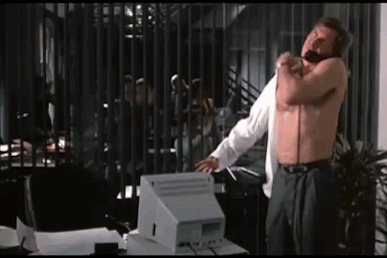 You know that famous movie with Harrison Ford where he's at his handsomest? If you're thinking of Star Wars or Indiana Jones, then you've obviously never seen Working Girl. I can still remember the feeling I had when I saw it for the first time, which was: Jack Trainer, where have you been all my life?! (Side note: The only other way you could have a better fantasy-boyfriend name than Jack Trainer is if you went with Charlie RuggedYetVulnerable.) There's one moment early on in the movie where he's been up all night at his office, working on a deal that Melanie Griffith brought to him, and he CHANGES OUT OF HIS SHIRT AND PUTS ON A NEW ONE. That's it. It's both the sexiest scene of all time, and also when I became a woman. For a moment, everything slows down and it's just his bare torso and you. Meanwhile, all the women in his office are watching him change and start clapping, then he gives a shrug to them and also to us which seems to say: "I know you just objectified me, but I'm okay with that. You've dealt with a lot of men's shit in your life, and my perfect muscular body is my gift to you."
I used to think the reason I love this scene is because he's staying up all night helping Griffith accomplish her goals, and I thought I was attracted to the idea of such a partnership. But nope. Harrison Ford has a really nice body. He's so muscly! And when he takes his shirt off, it looks really good! Warning to anyone who is attracted to men: You will hit your sexual peak exactly halfway through watching this clip. Enjoy.
– Michelle Markowitz
The piano-sex scene in Pretty Woman.
Richard Gere and Julia Roberts ruined the piano for me. And, if I may use this space to make bold assumptions about what we didn't explicitly see, they ruined it for anybody who may have walked in on them too.
Here's how the moment goes: After a night of wining and dining, Vivian (Roberts) finds Edward (Gere) in a room off of their hotel lobby, playing piano and reflecting on his life and perpetual unhappiness. Catching him in a moment of vulnerability, Vivian sits atop the piano and the two begin chatting before they descend into something more. The camera zooms out as they get hotter and heavier, and soon we're left only with the sound of smashing piano keys to suggest that piano sex has officially begun.
I think about that sound constantly. I think about how haunting and ghostlike it is, and that each key suggests that these people are as subtle as Tom Hanks dancing at FAO Schwarz. I think about the patrons outside hearing it and wondering why they've paid to stay someplace with such bad live entertainment. And I think about the piano itself, once a tall tree, now an instrument stuck beneath a sad man and Julia Roberts in the role that made her a star.
Each key a cry for help. Each note? The worst kind of sex anthem.
– Anne T. Donahue
Ryan Coogler saying "Luca" (as in Guadagnino).
Like almost everyone else, I fell deeply in love with Call Me by Your Name, a movie about life and love and Armie Hammer not eating a cum-filled peach. The director Luca Guadagnino is famous for his sensual filmmaking, and yet the Call Me by Your Name moment that gets me the absolutely hottest and bothered-est came from an on-camera press junket interview with Black Panther director Ryan Coogler in which simply says Guadagnino's first name. "The director of Call Me by Your Name," the Yahoo reporter begins. Coogler looks up attentively. "Luca," he offers simply in his deep, viscous voice. My eyes roll into the back of my head like Leo in Wolf of Wall Street. I press play on "Love You Like a Love Song" by Selena Gomez because I do indeed keep hitting repeat-peat-peat-peat-peat-peat! "L-ooh-ca," Coogler says. The context slips away (Guadagnino said that he would've liked to direct Black Panther and Creed, and Coogler is very flattered to hear this), and there's just me listening to Ryan Coogler's deep voice. I've written a lot about sexy, honey-soaked voices, but Coogler's is thiccer than all of them.
– Hunter Harris
The roller-coaster scene in Fear.
There's truly no horniness more potent than a teen virgin's. It's a horniness for sensations you don't yet fully understand and therefore are completely wild with potential. And the various steps of sexual exploration were weighted very heavily. Hand stuff is a big deal! Now, I can't tell if Reese Witherspoon's character in Fear was getting fingered for the First Time but I'm confident that it was her first time doing that on a roller coaster which is the exact sort of insane dream scenario a 14-year-old girl might fantasize about as particularly sexy and somehow also extremely romantic. This scene — set to "Wild Horses," no less — embodies an idealization of sex stuff that's now completely decimated in adulthood. It recalls a time before you realize there are only truly four sex positions and you believe there's such a thing as a good hand job. This scene is also a testament to the straight girl's unenduring optimism. What I remember most about this movie is Reese getting finger-banged by Mark Wahlberg at a county fair, and not his subsequent stalking, abuse, and attempted murder.
– Angela Vitello
Lenny Kravitz's dick popping out of his pants.
Where were you when you heard the good news that Lenny Kravitz's dick fell out of his pants onstage? I was living in Minneapolis, working a terrible job that I hated, spending most of my day online to avoid facing the facts of my life. I am also a child of the '90s, and I like my dicks like Lenny Kravitz likes his scarves, so this was an important day for me.
What fun we all had! There were jokes and gifs to be made, and a general outpouring of good-natured, horny gratitude that the lord had made those leather pants as weak as my will. But of course, because this was 2015, that fun was immediately followed by days of hand-wringing, and guilt-making, and tortured think-piecing about the appropriateness of looking at the dick. Even that seems delightful now. Remember when we all had the time to properly suck every last ounce of joy out of unambiguously good things? Remember when asking "Does looking at Lenny Kravitz's dick contribute to rape culture?" seemed like, if not a worthy feminist question, at least one we had the time to briefly consider? Were we ever so young?
– Brandy Jensen