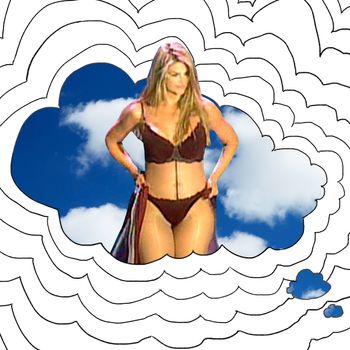 I Think About This a Lot is a series dedicated to private memes: images, videos, and other random trivia we are doomed to play forever on loop in our minds.
In November 2006, I was a sophomore at Paramus Catholic High School in northern New Jersey. Nearly every day after school, I would take the NJ Transit bus to my grandparents' house where I would have a snack, practice the piano, and hang out with my grandma. Sometimes, we watched Oprah.
We weren't devoted fans, it was usually just on in the background while we were making dinner. By 2006, Oprah was well into "live your best life, embrace the law of attraction" Oprah. I mostly remember the more sensational family drama segments that veered perilously close to supermarket tabloid territory — episodes about being "hooked on plastic surgery at age 28" or "extreme miracles captured on tape." But the segment I come back to in my mind most often is the big reveal of Kirstie Alley wearing a bikini.
It's odd that of all things that should be burned into my brain, it's Kirstie Alley in a red lace bikini. At the time, I recognized Alley from Cheers and Star Trek II: The Wrath of Khan, but I wasn't too interested in her personal weight-loss battle. I remember the promos for the episode in the days before it aired, hearing Oprah's voice telling us to tune in for the BIG REVEAL. The lead-up to the actual event was so excessive, you'd think that she was preparing us for something more groundbreaking than a woman wearing a swimsuit on television.
Apparently I'm not alone in thinking of the episode as memorable because that time "Kirstie Alley Donned a Bikini" is the first segment on an Orpah.com listicle titled "Remember When?" Kirstie's moment is followed by that time "Mel Gibson Smoked Onstage," "Lindsay Lohan Addressed the Tabloid Rumors" and "Oprah Danced with the Teenage Mutant Ninja Turtles." President Barack Obama's 2005 appearance on the show when he was "just a new senator" also makes the list, below Lindsay Lohan and above a young Jerry Seinfeld.
Kirstie Alley, according to the Oprah show site, had an epiphany in 2004 after she realized that her weight was the target of vicious tabloids and paparazzi. "She quit smoking the very next day and decided to change her life," it states. "Determined to drop a few dress sizes, she became a spokesperson for the Jenny Craig weight-loss program." And just like that, with a Jenny Craig endorsement deal by her side, Alley reportedly lost 75 pounds in two years. What better way to mark such an achievement than by making a triumphant return to The Oprah Winfrey Show wearing as little clothing as daytime talk-show television standards would allow?
When the moment finally came, sliding doors at the back of the stage parted and — out of the darkness and fog — Alley strode down a catwalk constructed just for this very purpose. As I watched — sitting in my grandma's kitchen, probably drinking chocolate milk and eating a Little Debbie snack cake — I thought, "Wait, she's not really wearing just a bikini, is she?" When Kirstie Alley untied the large chiffon scarf on her waist, it was clear that her tummy was covered with a flesh-toned mosquito netting — which she later referred to in a bizarre 2009 Larry King interview as "stripper hose." All the while, The Commodores' 1977 hit "Brick House" played in the background as the camera panned to faces of women in the audience who looked just as confused as I was.
As ridiculous as it was, that moment would come back to me throughout high school, when I was trying on clothes in the Mandee and H&M dressing rooms. At 16, I was tall and awkward; I didn't have much of an interest in makeup and I hadn't discovered the joys of hair mousse. I looked at my soft, pale underbelly, which would never lay toned and flat under a flesh-colored body stocking. I would never have the courage to wear a bikini at the Jersey shore, let alone in front of a live studio audience while a funk soundtrack pulsed in the background.
We're so comfortable with the premise presented by that bikini reveal moment: a woman gains weight, is shamed by others, hates herself, loses weight, and becomes a new, better person. I guess my 16-year-old self expected more from Oprah. At the end of the day, it felt like another daytime talk show that promoted questionable products and served as a vehicle for people like New Age guru James Ray and erstwhile memoirist James Frey.
Ultimately, the Kirstie Alley segment exemplifies pseudo-empowerment stunts that permeate pop culture — from Dove's "Real Beauty" ads, to the latest Sports Illustrated swimsuit edition, which co-opted the #MeToo movement in a delightfully transparent way. Perhaps that's why I still think of Alley's bikini reveal. Like so many "Before and After" reveals, it's done in the guise of the person's best interest. It's a spectacle, one that's played on loop, enacted everywhere from Nutrisystem commercials to Instagram influencer accounts. But for me, it will always look like a forced hobble down a catwalk, wrapped in a nude body stocking.