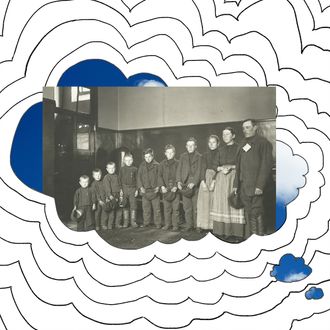 Photo: Augustus F. Sherman/The Miriam and Ira D. Wallach Division of Art, Prints and Photographs: Photography Collection, The New York Public Library
I Think About This a Lot is a series dedicated to private memes: images, videos, and other random trivia we are doomed to play forever on loop in our minds.
"Are they Jewish?" my grandfather asked. It was his favorite question, and one of his most frequent, even when "they" were complete strangers who had been dead for half a century or more — as was the case with the photograph of an immigrant family of ten, with one daughter and seven sons. Daddy Hal, the name he insisted promoted a youthful image (false) and accurately reflected the role he played in my life (true), immediately took to calling the daughter, the eldest of the eight, "the good girl."
He'd called that day from California, as he did every day, while I was sorting through hundreds of historic Ellis Island photos to display at the New York Public Library. Daddy Hal came along for the ride, listening as I contemplated a staggering range of immigrants photographed by Augustus Sherman, an employee of the Executive Division of Immigration from 1892 until his death in 1925. Fascinated by recent arrivals in traditional clothing, Sherman posed more than 250 of them against a dull backdrop. I was struck by the profile of a Guadeloupean woman in a regal dress and tartan-print hat and a "Gypsy family" whose smiling, gap-toothed matriarch proudly held up one child as the other two looked off-camera and her husband, his hair disheveled, sat beside her. There was the tattooed, shirtless German stowaway who stood with arms crossed; the straight-backed Russian Cossacks who wore clothing laden with swords and knives; and three Dutch women in traditional headwear who gave off the slightest hint of defiance, but no Jews. (In fact, a quarter of the 12 million immigrants who went through Ellis Island from 1892 to 1953 were Jewish.)
There were none to be found in the photo of a family of ten, either, though that was hardly my focus. "The good girl" looked to be a teenager, and I pitied her immensely. I feared she spent her entire life caring for others — first her seven younger brothers and then, perhaps, as many children of her own. I imagined she had gone from her parents' house to her husband's, with no moment in between to, say, live across the country from a family whose expectations were so Old World, it was almost comical. Did she ever have a moment to ask herself, at a safe distance from her family's unrelenting needs and expectations, Who am I? What kind of life do I want to live?
I wanted that for her, this young woman whose name wasn't even included in the caption or catalogue entry, as much as I wanted it for myself — which didn't make much sense to Daddy Hal. He was a first-generation American who dropped out of high school to help support his family, and while he was proud to see me go to college, he was perplexed by my foray into graduate school, and confounded by almost everything that followed. To his mind, I should be like "the good girl," and fulfill my destiny as a wife and mother. It was a dire situation in need of monitoring, which meant he knew exactly when to ring my subterranean office in Bryant Park, where fertility apparently went to die — bad news for our family, but good news for all those teenage pages I caught doing heavy petting in the stacks.
(Daddy Hal loved updates on the heavy petting, too, but the chosen people, and his family's perpetuation of them, loomed largest in his mind.)
I've thought about that photo and conversation — one of our last before lung cancer took Daddy Hal's voice, and then his life — a lot. For seven years, to be exact, every time I miss him — which is constantly, just like he told me I would. In this starved state, wondering about "the good girl" allowed me to grasp at Daddy Hal long after his persistent phone calls, exhausting inquiries, and antiquated sexism had ceased. On a recent Sunday, I decided it was finally time to retire that magical thinking, and after ten minutes of searching for related exhibitions, historical societies, and grave sites, I'd filled in the blanks.
The Mittelstadt family arrived on May 9, 1905, on the S.S. Pretoria. Maria, "the good girl," was born on January 1, 1892, about 25 days and 90 years before me, in what was then Bessarabia, South Russia. She was 15 years old when her family left Ellis Island to settle in Kullen, North Dakota. Four years later, she married Frederick Simfenderfer, and they had four children and many more grandchildren. Some remain in North Dakota, near Sunset Memorial Gardens, where Maria was buried in 1963.
I still think about that photo a lot, but I no longer project my hopes and dreams onto Maria. Now it reminds of how much Daddy Hal sacrificed for me, and how grateful I am to see the vestiges of his extraordinary love in every part of my life, which remains as professionally rich as it does childless. And if he figured out a way to haunt me, which seems like the kind of thing he'd spend his time doing, I'd be thrilled, but I don't think he'd focus on that last part. At his memorial, Daddy Hal's friends told me he was an unapologetic braggart when it came to his only granddaughter, and they congratulated me on being the "President of the Museums and Libraries of New York." All of them.