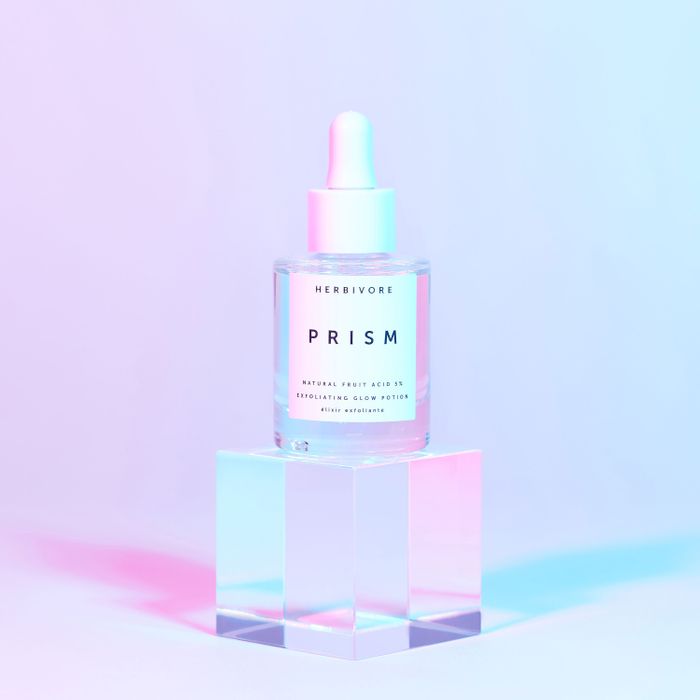 You maintain a healthy glow by rubbing a rainbow all over your face, right? At least that's what this new all-natural potion will have everyone thinking. Herbivore Botanicals just released Prism, a natural fruit acid exfoliating liquid that appears to shimmer like a holograph.
A quick glance at the list of natural ingredients in Prism Glow Potion conjures images of tranquility, where a rejuvenating rainbow blend of natural ingredients work together to increase clarity and improve texture. The fruit acids in Bilberry, Orange Peel, and Kakadu Plum work together to gently exfoliate and brighten, while moisturizing Rose water and Aloe water plump and soothe your skin. It's kind of like an essence, because it helps to hydrate and balance skin, but it also shares the highly concentrated moisturizing qualities of a serum. The bottle itself is super sleek with a minimalist label that will look fantastic shimmering next to all the other potions in your beauty lair.
This potion is just the latest release in Herbivore's line of cruelty-free, non-toxic, and highly effective natural products. One dollar of every Prism Glow Potion sold will go to the Trans Women of Color Collective. As I conduct my ongoing experiment with the power of pizza, I feel comfortable trusting my skin with the power of nature that's been bottled in the Prism Glow Potion.
If you buy something through our links, New York may earn an affiliate commission.