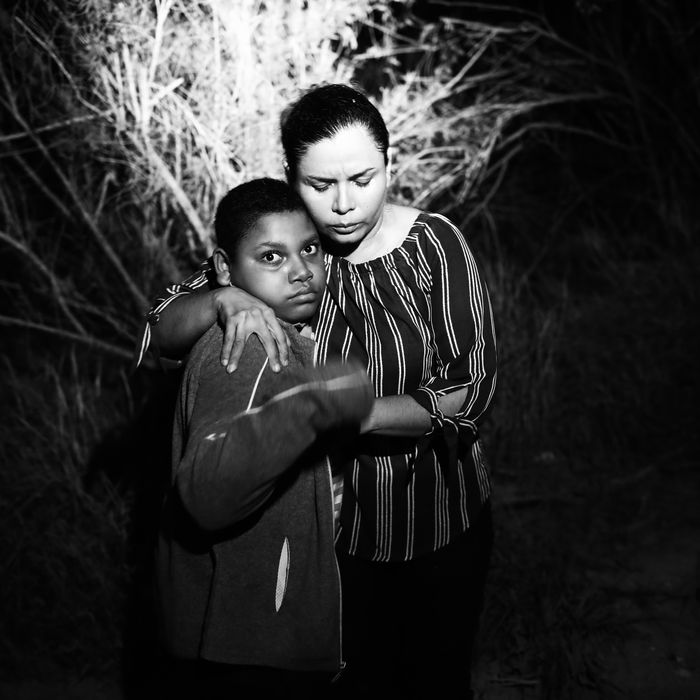 A terrified mother and son from Honduras near the U.S.-Mexico border on June 12, 2018 in McAllen, Texas.
Photo: John Moore/Getty Images
On June 27, U.S. District Judge Dana Sabraw gave the Trump administration "firm deadlines" to reunite the nearly 3,000 migrant children who were forcibly separated from their parents at the border. Just as the administration missed its July 10 reunification deadline for children under five years old, it again missed its deadline today to reunite all eligible families with children over five.
While Homeland Security Secretary Kirstjen Nielsen told Fox News on Tuesday that it was certainly the administration's "intention" to meet the court-imposed deadline, as of Thursday evening, only 1,442 of the 2,551 kids over five who were ripped from their parents under the "zero tolerance" immigration policy have been reunited with their parents. There were also 378 children who were discharged in "other appropriate circumstances."
That leaves 711 kids whose families were deemed ineligible for reunification, and who must now remain in government care. Of those 711, 431 have parents who were either deported or accepted "voluntary removal," and 94 have parents living in locations that are "under case file review." (A family can be disqualified for reunification is parent has a criminal record, a contagious disease, or has not been proven to have a familial relationship with the child.)
The consequences — if any — that Trump will face for failing to meet the deadline are still unclear. "It is within their right to fine or imprison government officials who do not comply with the order," In an interview with Newsweek, Sarah Pierce, a policy analyst and immigration lawyer at Migration Policy Institute, said the court could fine or imprison the offending government officials, but that is unlikely. Instead, she said that there's a much bigger chance that the court will require the administration to give it regular updates about the ensuing reunification process.