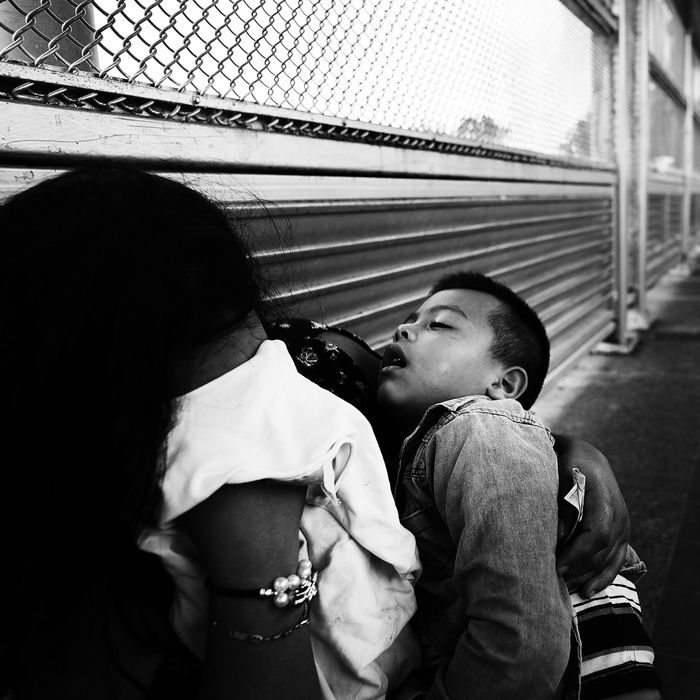 Photo: Spencer Platt/Getty Images
The Trump administration has been hit with a lawsuit from attorneys general in 17 states over its inhumane "zero tolerance" immigration policy, which ripped over 2,000 children away from their parents at the border. On Thursday evening, PBS NewsHour provided new details from recent filings in the lawsuit, including the shocking tale of one mother who was separated from her infant for 85 days.
On Monday, 99 declarations were filed by the attorneys general in the lawsuit, each detailing horrific conditions facing migrants detained by the federal government. One declaration came from Olivia Caceres, whose 1-year-old son was taken from her in November after they fled El Salvador. The boy was eventually returned to her after 85 days apart, while her husband remains in custody.
What Caceres wrote about her reunion with her child is incredibly painful to read:
He continued to cry when we got home and would hold on to my leg and would not let me go. When I took off his clothes he was full of dirt and lice. It seemed like they had not bathed him the 85 days he was away from us.
She continues:
(My son) is not the same since we were reunited. I thought that, because he is so young he would not be traumatized by this experience, but he does not separate from me. He cries when he does not see me. That behavior is not normal. In El Salvador he would stay with his dad or my sister and not cry. Now he cries for fear of being alone.
The other declarations are equally bleak, ranging from a mother who hasn't seen her 7-year-old daughter since they were separated in May to a man who was held in a small room with over 60 men for eight days. "We called it the Freezer because the air conditioning was so strong that we felt like ice." Another declaration states that children "did not have shoes or blankets in the detention center, and there were people in cells that had to sleep standing up."
To read NewsHour's difficult report, click here. You can also watch a video clip of their report below.