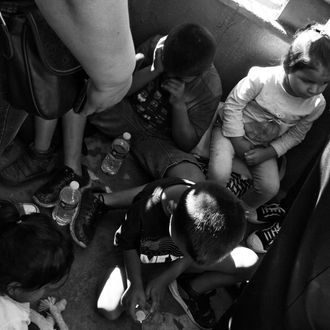 Migrant children.
Photo: Herika Martinez/AFP/Getty Images
After reading testimony from several migrant children who said they'd been injected with psychotropic medication without their consent, a federal judge ruled that the Texas facility holding them had violated state child welfare laws.
Per the Washington Post, U.S. District Judge Dolly Gee of Los Angeles ordered the Trump administration to either obtain consent or a court order before giving medication to minors, unless there is a dire emergency. She also demanded the immediate evacuation of all children — except those deemed to pose a "risk of harm" — from the offending facility, Shiloh Residential Treatment Center in Manvel, Texas, which is contracted by the U.S. Office of Refugee Resettlement.
Staff members at the facility admitted to violating welfare laws by signing off on medications for children — but the government was quick to defend this practice, claiming that drugs were only given to children "on an emergency basis," when their psychiatric symptoms became "extreme." The judge took issue with this explanation, noting that some children said they'd been given meds "every morning and every night."
One girl held at Shiloh, who testified as Isabella M. in court filings, said she was prescribed multiple psychotropic medications while she was detained in the center. She also recalled watching staff members "forcefully give [other children] medication four times."
"Two staff members pinned down the girl … and a doctor gave her one or two injections," she said. According to the child's testimonies, while some minors were given injections, more were given pills on a daily basis. She said the staff members and doctors claimed these drugs were vitamins, but they caused side effects like nausea, dizziness, depression, and weight gain.
According to Isabella's mother, who also testified, her daughter told her that she fell several times "because the medications were too powerful and she couldn't walk."