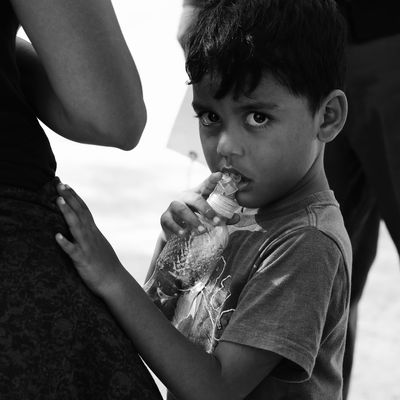 Migrant child.
Photo: John Moore/Getty Images
Even now that they've been reunited with their family members, migrant children who were ripped away from their parents under the Trump administration's family-separation policy are exhibiting signs of deep, lasting trauma. Mothers have reported major changes in their children's behavior, saying they've become withdrawn, clingy, and terrified of being left alone. And numerous parents have said that detention left such an indelible impression on their children that they now "play" by pretending to be immigration officers, an obvious imitation of what they saw while trapped in the government's broken immigration system.
A Brazilian woman named Ana Carolina Fernandes, who was apprehended by Border Patrol in late May, told the New York Times that she was forced to spend 50 days apart from her 5-year-old son, Thiago. He used to love playing with Minion toys before the separation; now, she says, he'd rather mimic immigration agents by pretending to arrest his younger relatives.
Another young boy who was separated from his mother has been pretending to handcuff and vaccinate people around him, immigrant advocates told the Times. This disturbing behavior isn't just limited to children who were separated from their parents under the Trump administration — an El Salvadoran woman named Angelina who'd been detained with her 6-year-old son in 2014 previously told the Cut that she witnessed kids mimicking Border Patrol agents while detained:
In the detention centers, the kids would play, and the characters they'd pretend to be were those that they saw in the detention center or on their journey. One child would play the officer; the other one would play the coyote. After some families went to court, they would also pretend they were in court — there was the judge, and there was an immigrant talking to the judge. The officers got offended, and they didn't want the kids to pretend to be them anymore. So they asked the mothers to make them stop.
To advocates and experts, this sort of behavior is a clear indication of the ways that detention can change the way children think and process the world around them — with repercussions that long outlast their time in government custody. "Our volunteers are seeing the significant and real toll that these traumatic separations have had on these children's and these families' lives, which persist even after reunification," Joanna Franchini, a volunteer with the organization Together & Free, told the Times.
Fernandes has experienced this firsthand with Thiago. "My son used to be carefree," she said. "He wasn't this way."