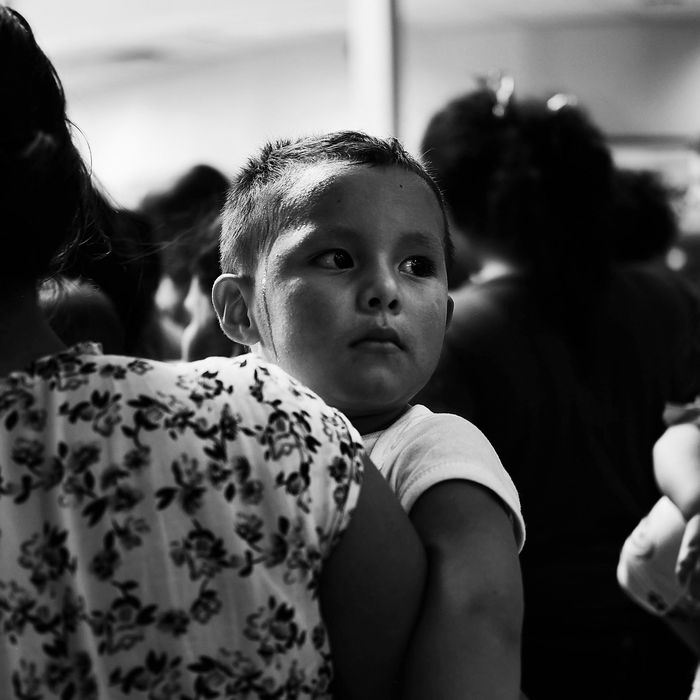 Women and children at a bus station following their release from Customs and Border Protection on June 22, 2018 in McAllen, Texas.
Photo: Spencer Platt/Getty Images
Weeks after President Trump formally ended his administration's cruel "zero tolerance" immigration policy, parents and guardians who were separated from their children at the U.S.–Mexico border are still struggling to find each other. And the challenges do not end once they're reunited.
Two immigrant mothers in Phoenix told the New York Times recently that when they were finally reunited with their children, after having been apart for several months, their children didn't seem to know who they were. Via the Times:
"He didn't recognize me," said Mirce Alba Lopez, 31, of her 3-year-old son, Ederson, her eyes welling up with tears. "My joy turned temporarily to sadness."
Another mother, Milka Pablo, 35, told the Times that when she went to hug her 3-year-old daughter Darly after having been apart for three months, Darly screamed and tried to escape her arms, and called out for the social worker who had been working with her since she and Pablo were separated.
According to experts, this behavior is not unusual for young children who have been torn away from their parents. Ann Thomas, president and CEO of the Children's Place, an agency in Kansas City that works with traumatized children, explained to the Cut back in June that children might believe their parents are responsible for their separation, and it can take time to rebuild the trust they feel was betrayed.
"It's not uncommon to think, Mom, why did you leave me?" Thomas said. "He may not just run into her arms."
These are just the latest in a long line of troubling accounts from separated families. Last week, one mother, Olivia Caceres, told PBS NewsHour that she had been separated from her 1-year-old son for 85 days, and when they were finally reunited, he would cry constantly and wouldn't let go of her leg. Caceres said that when she removed his clothes "he was full of dirt and lice" and "it seemed like they had not bathed him the 85 days he was away from us." She added that her son "is not the same since we were reunited."