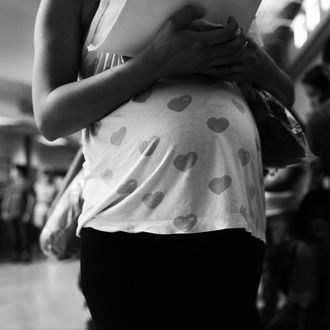 Yeni Marciela Gonzalez Garcia, a Guatemalan immigrant and mother of three, speaks at the Cayuga Home in Harlem after being reunited with her children.
Photo: John Moore/Getty Images
Government officials reportedly told at least four immigrant women to pay for the DNA tests being used to reunite separated migrant families — a practice that could be a violation of federal law.
When Attorney General Jeff Sessions announced the "zero tolerance" immigration policy of separating immigrant children from their parents at the U.S.-Mexico border, the Trump administration had no plan to reunite the families. After international outcry, the Department of Health and Human Services announced that the Office of Refugee Resettlement would begin using DNA tests to certify familial relationships. But according to a new report in the Daily Beast, a private contractor has been the one administering the tests — not the ORR — and immigrant parents are reportedly being told to pay.
Ruben Garcia is the director of Annunciation House, the immigrant shelter where the four women who were reportedly told to buy the DNA tests are currently residing. Out of the four immigrants, three are mothers seeking their children, and the fourth is a sister who's attempting to find her three-and-a-half year old brother.
Speaking of the tests, Garcia told the Daily Beast, "None of them have the money, so it's going to fall back on us to push back on that."
What's more is that the Trump administration single-handedly created this problem, all because they failed to track where immigrants were going when first separated. Driving the point home, Iliana Holguin of the Annunciation House said, "The government wants the parents to foot the bill for the DNA testing when they're the ones that caused the need for DNA testing. It's incredible."