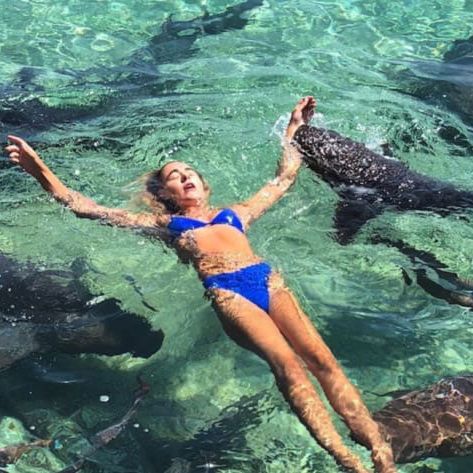 Photo: Katarina Zarutskie/Instagram
From the man who got mauled taking a selfie with a bear to the many people who have fallen off cliffs mid-gram, Instagramming is well on its way to surpassing base-jumping as the world's most dangerous sport. Our latest Instagram-related injury comes courtesy of 19-year-old influencer Katarina Zarutskie, who was bitten by a nurse shark while attempting a photo shoot in the Bahamas.
Zarutskie told Buzzfeed that she was walking past a spot where people were swimming with nurse sharks, and she decided to hop in and join them. While nurse sharks are usually harmless, one of these industrious sharks clearly had an eye for what makes good #content.
"I leaned back, and then that shark he came and he bit down on my arm and pulled me under," said Zarutskie. Wisely, she remained calm and lifted her hand from the water so dripping blood wouldn't lure more sharks into the pic. "I am lucky to have my hand," she said.
On Monday, Zarutskie shared the photo to her Instagram with the caption 'PSA: Sharks are cute and can nibble at times if not careful.' While some accused her of casting undue blame on the sharks, she clarified that she "love[s] sharks" and "is not throwing them under the bus." She also gained over 15,000 followers. All in all, she reflected, the experience was "a big learning lesson".