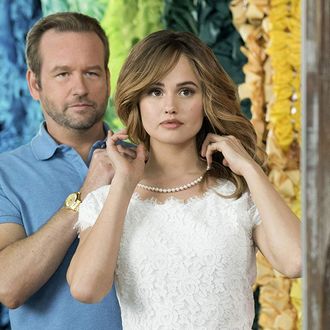 Insatiable.
Photo: Netflix
After more than 200,000 people signed a petition to cancel the Netflix show Insatiable due to its "fat-shaming" plot, the streaming service responded to the overwhelming backlash.
The Netflix Original program, which has not yet aired, tells the story of "fatty Patty," a high-school student who is bullied by her peers for being overweight, but is later deemed hot after she gets her jaw wired shut and loses a great deal of weight; taking advantage of this newfound acceptance, she launches a scheme to get revenge on her erstwhile tormentors. Much of the story was based on the personal experiences of Lauren Gussis, a former Dexter writer and the creator of the show.
When the trailer premiered a little over a week ago, people — nearly 208,000, to be exact — were upset, calling the plot toxic. "For so long, the narrative has told women and young impressionable girls that in order to be popular, have friends, to be desirable for the male gaze, and to some extent be a worthy human … that we must be thin," the petition reads. "We still have time to stop this series from being released, and causing a devastation of self-doubt in the minds of young girls who will think that to be happy and be worthy, they need to lose weight."
At the 2018 Television Critics Association Summer Press Tour, Netflix's Original Series vice-president Cindy Holland decided to respond to the criticism, claiming that the show's messaging has been misinterpreted.
"Lauren Gussis, who is the creator, felt very strongly about exploring these issues based on her own experiences, but in a satirical, over-the-top way," she said. "Ultimately, the message of the show is that what is most important is that you feel comfortable in your own self. Fat-shaming itself, that criticism, is embedded in the DNA of the show."
Gussis has not yet responded to the controversy. The show is scheduled to premiere on Friday, August 10.