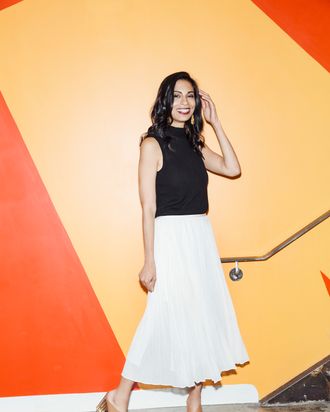 Anu Duggal wears Salvatore Ferragamo sandals.
Photo: Victoria Stevens
In Her Shoes is a column about what real women wear when they need to get things done.
In the last few years, the popularity of brands like Everlane, Warby Parker, and Glossier has made everyone a startup expert. The new get-rich fantasy isn't hitting the lottery — it's having someone invest in your great idea. And if you're a woman with such a notion and you're hoping to nurture it into something big, the name to know is Anu Duggal.
Along with her partner Sutian Dong, Duggal runs the Female Founder's Fund, an early-stage fund to help women-led startups grow their business. In their portfolio are heavy hitters like Eloquii (a leading retailer for curvy women), Zola (a virtual registry for millenials), and Winky Lux (an Instagram-friendly beauty brand), along with smaller companies spanning health care, fashion, and technology. The Cut caught up with Duggal at her Soho co-working space to talk about being a woman in venture capital, what she looks for when she invests, and the one go-to item in her closet.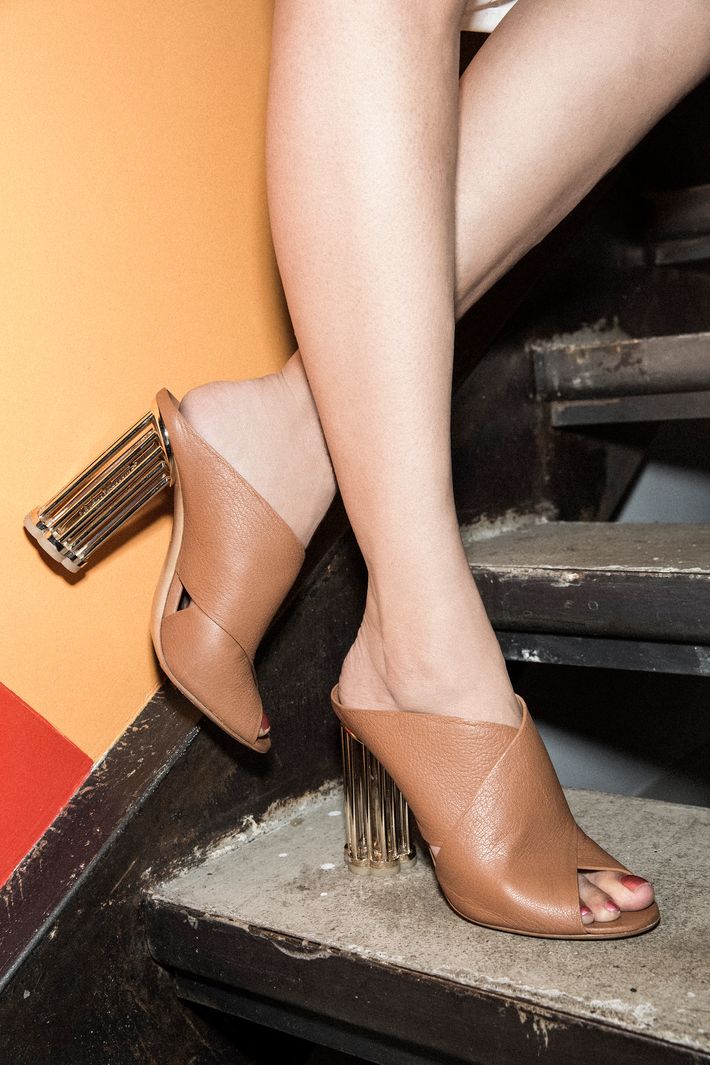 On her daily commuter shoes: My go-to option for cold weather are over-the-knee suede black boots by Stuart Weitzman. But in the summer, I love wearing Ferragamo wedges, Jonak gold sandals, or silver Keds. I'm also currently obsessed with Golden Goose sneakers. I love days when I don't have any meetings to attend and I can wear a comfortable pair of sneakers to the office.
On heels versus flats: I'm definitely more of a flats or wedge person. I usually only wear heels for more formal events; working in tech and venture plus running my own business means that there's more flexibility around what I wear. I do love these Ferragamo heels! They're so fun and a little over-the-top. I thought they were the perfect choice to dress up a simple outfit and then wear out after work.
On what she wears to big meetings: I'm almost always in a Zimmerman dress. They're my favorite for special occasions, too — very flowy, flattering, feminine and perfect for all seasons. I usually pair them with my Sergio Rossi gray suede heels. They're comfortable, elegant, and work with almost everything in my closet.
Shop Flowy Dresses
On her lack of desk shoes: I don't keep any shoes under my desk! Our office at Female Founders Fund in Soho is more casual which means that most of my outfits go from day-to-evening pretty seamlessly. If I have a more formal gala, I will go home and change, usually into an Indian sari from Sabyasachi.
On the shoes she wears for a night out: I'm usually wearing boots with a heel in the winter or sandal wedges in the summer. This season, I'm into wearing long dresses with flats or sandals.
On her go-to piece in her closet: Year round, I love my Aritizia pleated skirts (my favorite comes in white.) I have these in several colors and they are timeless. I pair them with boots and tights in the winter. Come summer I swap into sandals.
Shop Pleated Skirts
On her approach to dressing: In the world of tech and venture capital, most people have a casual approach to dressing. I want my clothes to project that I'm confident, determined, and stylish.
On being a woman in venture capital: Being a woman comes with both challenges and opportunities. Our network and deal flow is more diverse and varied than your typical Silicon Valley funds. It results in investment opportunities in overlooked areas that have potential to tap into large markets like astrology, women's health, and female-focused online communities. The biggest challenge has been fundraising — and the female founders in our portfolio have found the same thing.
On how to capture her interest: We're looking to invest in visionary leaders who are solving problems or creating opportunities that they are uniquely qualified to tackle. They need a proven track record of success in their career paths. Building a business is not easy, so we also look for proof of resilience and grit in their professional and personal lives.
If you buy something through our links, New York may earn an affiliate commission.