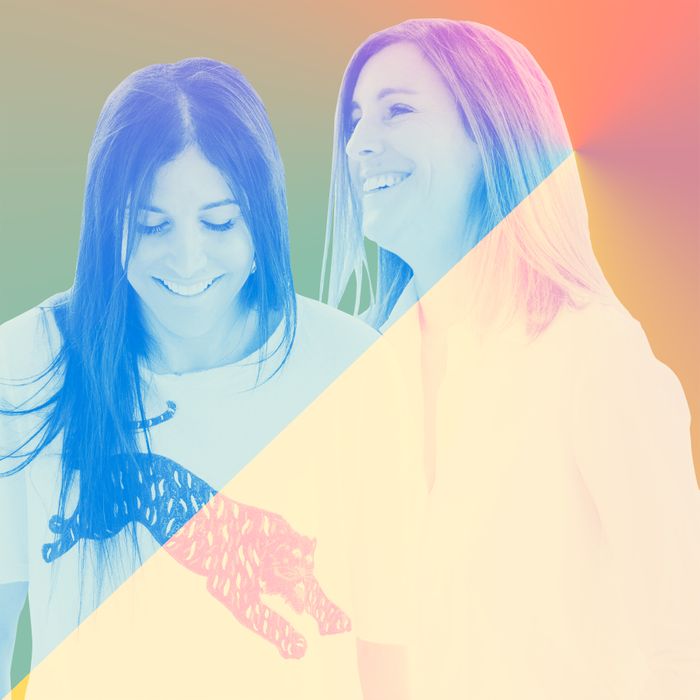 It's thanks to Tal Winter and Kate Cutler (and celebrity fan Gisele Bündchen) that a water bottle became a status symbol. The BKR co-founders weren't thinking about prestige when they decided to create a reusable drinking bottle that was easy to keep clean, free of chemical plastic, and didn't give water an odd aftertaste. Perhaps most interesting, though, was how they marketed it: as a luxury skin-care product.
Winter and Cutler originally met in law school. Both went on to practice litigation for about 12 years, but Winter couldn't stop thinking about her idea for a perfect water bottle. After moonlighting on her project for about four years solo, she asked friends if they knew anyone who wanted to join her in her endeavor but didn't necessarily need a paycheck right away. Cutler wrote back.
A year later, they launched their first BKR, in 2011. After months of tenacity, they landed an appointment with Neiman Marcus, where they cued up their PowerPoint presentation. "We explained our simple proposition that the foundation of good skin is hydration and that BKR is the tool that helps you drink enough water. They got the idea right away," says Cutler.
Now they're dipping their collective finger into skin care of the topical kind with BKR Paris Water Balm, a thick (but not sticky) salve loaded with 16 plant actives including rose and Mediterranean algae. Cleverly designed to click right into the cap of a BKR bottle, it debuts at Sephora's new Beauty From Within section this Summer.
It took five years and a lab in Paris (hence the name) to create what Winter calls "the Holy Grail of lip balms," but, she adds, "luxury takes time."
Cutler and Winter spoke with the Cut about their hatred for glitter and baby-shower games, missing luxuriating baths, and seeing Prince at a drugstore.
Bath or shower?
Kate Cutler: I wish I could do long baths with essential oils — but the reality is showering.
Tal Winter: I have a newborn. What do you think?
Preferred bath or shower product:
KC: Aesop Geranium Leaf Body Cleanser.
TW: Everyone Soap in Coconut Lime.
Shampoo or conditioner of choice:
KC: Davines Oi Shampoo — delicious smell, and it works.
TW: Oribe Gold Lust.
Favorite scent:
KC: Hermès Jardin Sur Le Nil.
TW: Byredo Bal D'Afrique.
Bed linens of choice:
KC: White and super soft.
TW: Whichever ones are the most expensive and highest thread count. Don't tell my husband, although I think he pretty much knows.
Netflix and chill outfit:
KC: Pajamas from PJ Salvage, J.Crew, and Monoprix.
TW: The softest long-sleeved T-shirt I have, and sweatpants from Barneys that don't feel overly schlumpy.
Most used item in your pantry?
KC: Maldon salt — it improves almost everything.
TW: Japanese Kewpie Mayo.
What phrase or word are you known for saying?
KC: At home, "Put your socks on." At work, "So annoying."
TW: "You're okay; you're okay" (to a toddler, mostly).
What word do you overuse?
KC: "Seriously?"
TW: Whispered under my breath, "What the fuck?"
What drives you crazy?
KC: When people don't get to the point, raisins, traffic, the middle seat.
TW: Chewing noises; baby-shower games; people who post about 5 a.m. gym visits; when a toddler scream-cries directly into your ear; using a keyboard that's slightly different from your usual keyboard; red-onion breath; nausea; glitter; BO; mosquitoes; fucking sexism; racism; gun laws; this administration.
Last great book you read?
KC: The History of Love.
TW: I can't remember. I just had a baby.
What do you do or take when you can't sleep?
KC: I try to remember the words to songs — quiets the restless mind.
TW: Cry into my pillow. Take a sublingual melatonin. Think too much. Look at social.
How do you cure hiccups?
KC: Eat a teaspoon of dry sugar — I got it from my dad, who is a doctor — gross, but it works.
TW: Just ride 'em out.
How do you cure sadness?
KC: Hug my boys or get a glass of wine with girlfriends.
TW: Perspective, one good friend, a Martini with blue-cheese olives, Bravo.
Favorite smell?
KC: Freshly cut grass, chocolate-chip cookies.
TW: Ocean air, laundry.
Least favorite smell?
KC: Paint.
TW: Concentrated sidewalk urine. And excessive cologne mixed with cigar smoke.
What do you still hope to invent?
KC: Ingestible sunscreen.
TW: More hydrating, clean, beautiful, can't-leave-home-without-it things.
Describe your most starstruck moment:
KC: Seeing Prince in a drugstore — he was looking at ChapStick.
TW: I met Chris Harrison from The Bachelor in a gifting suite once and I about lost it. I look like a complete dork in the photo we took together. What can I say. I like that show. Please don't judge.
What or who in your formative years altered the path you were on?
KC: Someone once told me, "If you don't want your boss's job, you're in the wrong job" — these words helped me to leave my comfortable life as a lawyer and take a leap to join Tal and start BKR.
TW: My fifth-grade teacher, Nancy King, whom I truly loved. She passed when I was in high school. Her belief in me single-handedly changed the course of my life. Because of her, I became incredibly internally motivated and that motivation has never left me.
Favorite meal and where:
KC: Trattoria da Danilo — a tiny, locals-only place in Rome with the best meatballs, fried artichokes, cacio e pepe pasta, and wines.
TW: Japanese tacos at home.
What do you foresee as the top beauty trends in 2018?
KC: Beautiful skin, natural makeup, and clean ingredients.
TW: Clean beauty and wellness, intertwined. It's a revolution more than a trend.
What product in your domain is misunderstood and should be a best seller?
KC: Extra glass — you need a lot of glass so you can rotate your bottles and keep them clean
TW: The teeny BKR. It may look super tiny, but it's actually a whole glass of water, and it's perfect for toting in your smaller bags.
If you won the Powerball tomorrow, what are the first five things you would do? (After, of course, donating the majority of it to your top charities.)
KC: I'd gather all the people I love and take them on a private plane to Tuscany. We'd spend time lounging by the pool, exploring little towns and eating pasta and gelato. And we'd stay for as long as everyone could.
TW: Private jet, tiny remote island, luxury resort on the water, turn off all devices, close eyes, and breathe deeply for two weeks.
If you buy something through our links, New York may earn an affiliate commission.