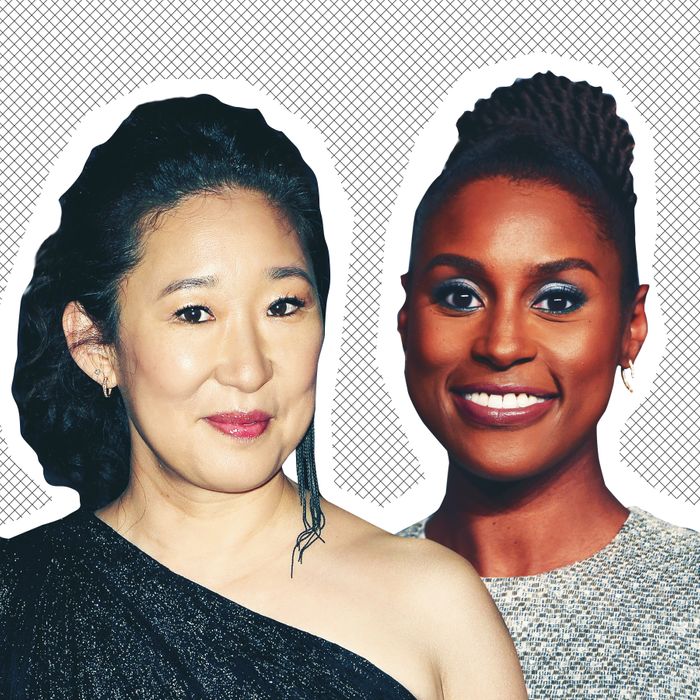 The Emmy nominations were released this morning, and while there are always some notable snubs (justice for Jodie Comer!) there's plenty to be excited about among this year's contenders. Here are some of the names that had us jumping for joy when they were announced this morning.
Issa Rae (outstanding actress in a comedy, for Insecure):
Despite Insecure being one of the best comedies on TV ever since it premiered in 2016, Issa Rae hasn't been nominated for the show she created and stars in until now. It's great to see her finally acknowledged, along with a group of other incredible black women including Regina King, Thandie Newton, Zazie Beetz, Samira Wiley, Letitia Wright, Tiffany Haddish, and Leslie Jones. Or, as Issa so eloquently put it on last year's Emmys red carpet: "I'm rooting for everybody black."
Sandra Oh (outstanding actress in a drama, for Killing Eve):
Sandra Oh gave one of the best performances of the year in the deliciously addictive serial-killer show Killing Eve, so we're thrilled to see her nominated for the Emmy that she should have won for Grey's Anatomy all those years ago. This also makes her the first Asian nominee for best actress in a TV drama — a severely overdue milestone.
Matthew Rhys and Keri Russell (outstanding actor and actress in a drama, for The Americans):
The Americans' final season was one of the greatest seasons of TV ever, and yet the show's two leads have shockingly never won an Emmy, despite having been nominated in the past. Here's hoping our favorite KGB spy couple (and favorite real-life couple!) can finally lock it down in 2018 — a year when the show's Cold War conflict feels more relevant than we ever thought it would be.
Vanessa Kirby (outstanding supporting actress in a drama, for The Crown)
There's no better character in The Crown than the insult-lobbing, cigarette-puffing horny royal party girl Princess Margaret, and Vanessa Kirby deserves all the accolades for turning Margaret into a bona fide DGAF legend before Helena Bonham Carter takes over the role next year.
Pamela Adlon (outstanding actress in a comedy, for Better Things)
Pamela Adlon certainly had a challenging year, what with her friend and Better Things collaborator Louis C.K.'s downfall in the opening days of the #MeToo movement. But despite Louis's co-writing credit, Better Things has always been Adlon's show — not to mention one of the best things on TV — and we're happy to see that one of TV's most innovative feminist auteurs hasn't had her name tarnished by a famous man's misdeeds.
American Vandal (outstanding writing in a limited series, movie, or dramatic special):
Early on we declared that American Vandal — a stunningly realistic Making a Murderer parody about penis graffiti at a high school — was one of the greatest shows on TV. While it didn't manage to crack best show, it did garner a nom for best writing. Next year, a Golden Globe!
Anthony Bourdain (six nominations for Parts Unknown):
Anthony Bourdain, who died in June, received six posthumous nominations for his CNN travel show Parts Unknown, a fitting way to honor the legacy of a TV and culinary world legend — not to mention a #MeToo crusader and an all-round man to admire.
Aidy Bryant (outstanding supporting actress in a comedy, for SNL):
Bryant's SNL co-stars Leslie Jones and Kate McKinnon have been nominated in the past, but this is the first year Bryant's name has joined them on the list (though she did once get nominated for writing one of SNL's digital shorts). Bryant has long been SNL's resident ray of sunshine and one of the forces responsible for the show's iconic girl-gang music videos, so the recognition feels long overdue. Here's to Bryant and Kate McKinnon skipping the after-party to eat pasta in their hotel room yet again this year.
Queer Eye for the Straight Guy (four nominations, including outstanding structured reality program):
This was Queer Eye's first season being eligible, but it's already made a huge cultural impact, from teaching men it's okay to talk about their feelings to teaching men how to tuck in their shirts and make an array of simple dips. Can you believe?! (Yes we can!)
The Tale (outstanding television movie)
The Tale, HBO's film about a woman coming to terms with being sexually abused as a girl, is one of the most affecting and unusual films we've seen all year, and Laura Dern (who also got recognized in the best actress category) carried the film on her back, as she always does. Here's hoping that this recognition means we see more stories like this on TV in the coming years.
Tony Shalhoub (supporting actor, The Marvelous Mrs. Maisel):
What else is there to say other than that we simply love Tony Shalhoub, and you know we'll be rocking our Tony Shalhoub Cut shirts on Emmys night.