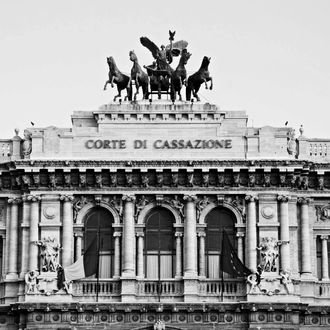 Italian court of cassation.
Photo: Marka/UIG via Getty Images
Two men who were previously convicted of rape in Italy are being granted a retrial after Italy's highest court, the court of cassation, ruled that the previous verdict in their case — a three-year sentence for each — needed to be revised. The court's decision rests on the assertion that the survivor of the crime, which took place in 2009, had "willingly consumed alcohol."
The two defendants, both age 50, were initially acquitted of the crime in 2011, but retried in 2017. The Guardian reports that the judge presiding over the 2017 trial reviewed medical reports, which showed the woman had "tried to resist the attack." In addition, the judge ruled that the fact that the men had "committed the act with the use of alcoholic substances" counted as "aggravating circumstances," or a factor that makes a crime more severe.
The court of cassation, conversely, found that because the survivor had willingly consumed alcohol on the night of the rape, there were not "aggravating circumstances" after all, and ordered a retrial to redetermine sentencing in light of that.
This is not the first ruling of its kind in Italy. In 2017, a man was acquitted of rape when a Turin court found that the woman had not yelled enough during the assault. After the trial had concluded, CNN reports, the woman faced slander charges. According to Italy's National Institute of Statistics, 43.6 percent of women in Italy between the ages of 18 and 65 reported experiencing some form of sexual harassment.
Women's advocacy groups in Italy have spoken out against the decision. "It makes it even more difficult for a woman to come forward and report a rape," Lella Palladino, the president of Italy's Women Network Against Violence, told the Guardian. "When they do find the courage they are regarded as not being credible and in many cases they are the ones victimized — it's a very alarming decision for women in our country."